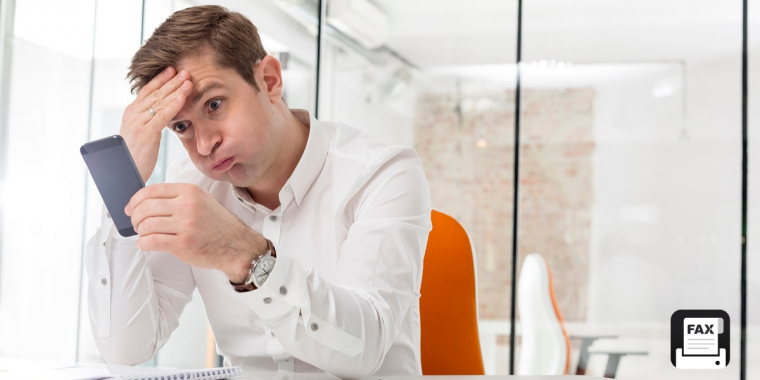 MyFax offers services that allow you to send faxes from your computer to any recipient with a phone number and an email address, without scanning or storing documents on your computer. But MyFax isn't the optimal option on the market; in fact, there are plenty of other business faxing services out there. If you have heard about MyFax but have decided not to try it out, keep reading to learn more about the other great alternative to MyFax.
What is MyFax?
MyFax is an online faxing service that allows users to send and receive faxes via email or the web. It is a convenient way to fax without having to use a fax machine or landline. However, MyFax is not the only option out there. There are several other online faxing services that offer similar features at a lower price and with better services with additional features such as the ability to sign documents electronically.
How does MyFax Work?
You can make MyFax work by following the steps below:
Using the MyFax Mobile App
MyFax offers a free mobile app for iOS and Android devices to make online faxing more convenient:
Send & receive faxes
Access your MyFax Contact List & your phone's contact list
Organize your faxes with keywords
Sending Your Faxes
MyFax makes sending faxes quick and convenient, no matter where you are.
Receiving Your Faxes
As a MyFax customer, you can view your faxes on any device you like.
Organizing and Personalizing Your Faxes
Learn how you can use custom cover sheets for your faxes and keyword tagging for quick future retrieval. Personalize your faxes with dozens of fax cover sheets and keep your fax archive clutter-free by tagging them with keywords for quick retrieval.
How Much Does MyFax Cost?
MyFax is a great faxing service, but it can be expensive. The service is priced at $10 per month for unlimited faxing. If you pay yearly, then it's only $8.25 per month. They also offer a free trial period of 30 days so that new customers can try out the service before committing to anything long-term. In terms of features, there are two options: Basic or Premium; both options include Fax Broadcasting (to email contacts) and Group Faxing (to email groups). It also offers an API for integration with other software such as CRM systems and document management systems like SharePoint. However, if you need to send more than 50 pages per month, the price goes up to $30 per month. And if you need to send more than 200 pages per month, the price goes up to $50 per month. That's a lot of money!
Is MyFax Safe and Legit?
You've probably seen the MyFax commercials on TV and are wondering if the service is legitimate and safe. Here's what you need to know. MyFax is a fax service that allows users to send and receive faxes online. The company is based in Canada and has been in business since 1998. MyFax is a legitimate company that is safe to use.
Is MyFax HIPPA Compliant?
No, MyFax is not HIPAA compliant. To determine if MyFax is HIPAA compliant, it is important to understand what HIPAA requires of fax services. To be HIPAA compliant, MyFax services must have safeguards in place to ensure the confidentiality, integrity, and availability of the electronically protected health information (ePHI) transmitted through their service. HIPAA-compliant MyFax services include encryption, access controls, audit controls, and transmission security to do so. The service provider must also be willing and able to sign a business associate agreement (BAA) with their healthcare clients. Even the most secure MyFax service is not considered HIPAA compliant if they don't sign BAAs with their healthcare clients. While MyFax offers a secure MyFax service, they don't sign BAAs with their healthcare clients.
Best Alternative to MyFax: Dingtone Fax
Dingtone Fax is the best alternative to MyFax because it offers a competitive price, great features, and top-notch security.
Easily to send and receive fax anytime and anywhere
Directly fax images and documents from any source
A dedicated fax number, local or international
Allows you to edit and preview fax documents
Provides fax cover sheet templates for different purposes
Allows you to sign your documents
End-to-end encryption to protect your privacy
Tracks the fax status
With Dingtone Fax, you can send and receive faxes without any hassle. Plus, you can use your existing phone number or get a new one. And if you're worried about security, don't be! Dingtone Fax uses the latest encryption technology to keep your information safe. The service also has an app for Android and iOS devices so that you can send faxes on the go. And they even offer a free trial period so that you can try it out before signing up for anything. So what are you waiting for? Give Dingtone Fax a try today! You won't regret it.