Everyone is aware of the fact that we have grown with very high technological advancements. But even today, fax still remains as an important method of disseminating documents and the only difference lies in the conversion from a huge fax machine to a fax app on a smartphone. Here in this article, we are going to guide you on why a fax cover sheet is important and how to prepare it in a smart way.
What is a Fax Cover Sheet?
For starters, a fax cover sheet, also called a fax cover page or fax cover letter, is a sheet that succeeds in the actual fax message. Essentially, it is a document that contains details about the sender, recipient, date, and subject, among other related details.
A fax cover sheet explains who the fax is intended for, and what content or information the fax contains. It meets various important objectives like:
Protects your fax document from being viewed by a passerby (it tends to take place around a public fax machine)
Protects contact info in case an unintended recipient receives it
Displays confidential clause or HIPAA disclaimer upfront
What Should be Included in a Fax Cover Sheet?
Ideally, a well-designed fax cover sheet consists of the following fields and details:
Letterhead
The letterhead sits at the top of the cover sheet and includes your company name and company details. To make it look more authentic, you can include the logo of your company. The company details section should include street address, ZIP code, phone number, fax number, and website if any. Keep it short and brief.
Sender and Receiver
The sender and receiver information are mostly written under the letterhead. Its primary motive is to inform the recipient about who has sent the fax and to whom it is intended for.
When writing about you, the sender, you should include the legally recognized name, designation, phone number, and reference. The same should be used to identify the receiver.
Call to Action
The third section provides a purpose to the recipient. After they've received it, how should they proceed with the fax and what is it you want them to do at the end. Do you want them just to review it, reply to it, or add comments on their own and process further?
Subject
The second most important section of a fax cover sheet is the subject. This briefly describes what the fax documents are about and the topic which it discusses. This allows the recipient to have a sense of what to expect when going through the documents. This will also help them make a better judgment.
Comments
Comments are the final section you should add to a fax cover sheet. Please note that this is an option, and you can skip it without major problems. But we recommend you add it if you've included special documents, specific information, or want the recipient to move forward in a certain way for the best results.
Other sections to include really depends on your business needs. Therefore, it's better to have a small and brief meeting with your team to discuss this matter.
Is a Fax Cover Sheet Necessary?
It's easy to dismiss a fax cover sheet at first sight. But only when you walk into an office using fax machines, you can realize its importance. Here are the purposes of a fax cover sheet.
To show corporate etiquette
First and foremost, fax machines are still popular among businesses. It's a primary mode of communication between the company and its vendors, customers, authorities, and so on. And in the business environment, maintaining corporate etiquette is important. So, fax receivers would expect you to include a fax cover sheet.
Excluding a fax cover sheet from the fax documents will be looked at as highly unprofessional. This can create a negative impression, which you should avoid at any cost.
To clarify who the fax is for
Consider a mid-sized or large organization present at multiple locations with close to hundreds of employees. If you send a fax to a receptionist or if someone is required to handle incoming messages, who is he or she supposed to forward it to?
Since you've not provided any details, they will never know who it is intended for. Even in a small-sized organization, this can create chaos for a few minutes.
To protect the integrity of the documents
The last thing that you will ever want is that your important document is viewed by someone other than the recipient. A fax cover sheet prevents that from happening and ensures that the fax is not read or seen by a passerby. It usually occurs that the page number is included in a fax cover sheet, telling the receiver how many pages are included so that no page will be missed out.
Where to Get a Fax Cover Sheet?
You can either use a fax cover sheet specialized for your company or prepare a fax cover sheet in advance on your own. Some fax cover sheet templates are available on our site and you can directly use them without any cost. If you want to customize the sheet, you must know some key elements about the sheet or create one based on the existing templates catering to your personal needs.
Does Microsoft Word Have a Fax Cover Sheet Template?
Yes. Use this accessible standard fax cover sheet template when sending documents for work, school, or personal matters. The fax cover sheet displays all relevant information, with the date auto-generating when you open the template. Good for both interdepartmental and external faxes, this fax cover sheet provides a professional-looking and protective shield for your information. Use the white space on the fax cover letter to include any instructions for delivery or other important details.
To help, free templates have been made to get and customize along with tips for business faxing. Microsoft word helps to make a fully professional-looking fax cover sheet in a variety of varieties.
Does Google Docs Have a Fax Cover Sheet?
Yes. Google Docs Fax Cover Sheet: Fax communication is although considered a less popular media of communication across the world, yet some modern business organizations tend to prefer it for a variety of reasons, which makes the Google Docs fax cover sheet an interactive form of the cover sheet.
Generally, in offices, a custom blank fax cover sheet is made using Google Docs. Then print multiple copies of that in order to place by the fax machine. For these main criteria only, brand new fax cover sheets with a lot of room for composing quick messages have been made.
There are many types of fax cover sheets like personal fax cover sheet, confidential fax cover sheet and professional fax cover sheet
Can You Make Your Own Fax Cover Sheet?
Yes. If you have decided to include a cover sheet before your fax message, it's simple to create your own customized fax cover sheet. There are many templates online that you can base on to create your own with simple fax marketing software.
You should include your name, your fax number, and your regular phone number. You should add the same information for your recipient. It is also common to put the date and the number of pages of the fax transmission. Most businesses also specify whether the fax is urgent and if they expect a reply. You may also include your logo and/or company tagline.
How to Make a Fax Cover Sheet?
Writing and setting up a fax cover sheet is very simple and it can be used so conveniently that once it is set up, you can re-use it again and again. Generally speaking, the following steps should be covered to make a fax cover sheet:
Firstly, add a letterhead to the top of the fax cover sheet. The letterhead can be for an organization or for an individual. It must include the company name, address, telephone number, fax number, and email address. List the data in a couple of lines down from the letterhead.
Write the company name followed by a colon.
Then you can write down the name of the company where you are sending the fax from.
Write "To" followed by a colon a couple of lines down.
Fill the name of the person who is going to receive the fax.
Write "From" and then a colon on the next line. List the fax sender's name.
Write recipient fax number and then a colon.
Fill in this line with the right fax number where you are sending the fax.
After that write down the number of pages of the fax including the fax cover sheet, followed by a colon.
Count the number of pages that you are faxing and add one of the fax cover sheets. Enter the number to this line. This helps the recipient to make sure that any of the pages is not missing.
Write Notes and then a colon. Enter any additional information that may be needed.
How to Make a Fax Cover Sheet in Microsoft Word?
The days of waiting not-so-patiently by a shrieking fax machine as a spool of paper filled the area around it may be long gone, but you may still find yourself occasionally needing to produce faxes. One benefit of these paper-electronic hybrids includes leaving yourself a paper trail for record keeping.
You can use the same program you use for typing the information you're about to fax to create the fax cover sheet. With one of Microsoft Word's quickly customizable templates, you'll be well on your way to inter- or out-of-office communication.
Step 1. Launch Word and click the "File" tab. Click "New."
Step 2. Double-click the "Faxes" button in the middle of the "Available Templates" screen. Scroll through the fax options for something that best suits your needs. There may not be a fax representative of your organization, but all Word fax templates may be completely customized. Double-click the fax to choose. After a few moments, the fax template opens in a new Word window.
Step 3. Click the cursor into the first text field on the fax form, which may be "Company," "Your name" or "From." Type the corresponding information.
Step 4. Press the "Tab" key or drag the cursor to the next area to enter further information, such as your return fax number, email address or the date of the fax.
Step 5. Continue to type information until the detail part of the fax page is complete.
Step 6. Change the preset text on the fax by highlighting it and typing over it. For example, if the template says "For," highlight and type "To" over it, per your preferences.
Step 7. Add your company logo to the fax page by clicking the "Insert" tab. Click the "Picture" button. Browse to the logo file and double-click its name. When the logo appears on the fax, drag it to your desired position. This is an ideal way to customize the fax with graphic files of a company picture, your monogram or a digital signature.
Step 8. Click into the main text area. Type the text for the fax. To keep your fax to a single page, you may need to manipulate the text's appearance. Highlight it and use the options under the "Font" section of the "Home" tab to shrink the text or change the font.
Step 9. Double-click any elements on the template that are in color, such as design details around the edges, a border or included graphic. When the new pink "Picture Tools" tab appears, click the "Recolor" button on the ribbon. Click "Grayscale." This step is optional, but it prevents your fax from using up colored ink on the recipient's end.
Step 10. Click the "File" tab and click "Save As." Type a name for the fax file in the "File name" field and click the "Save" button.
How to Make a Fax Cover Sheet in Google Docs?
The best perk of fax cover sheet in Google Docs is that you can use your own branding on the templates. When you open the document, you will find a blank template sheet on which you can add your company's logo or your personal attachments.
After each template image, you will find a link to the template in that will open in Google Docs. Just click on the link, and your template will open in new tab.
You can even add additional pages in the document. You can also edit the fax cover sheet by following the steps:
Step 1. Go to the Google Docs and create a new file.
Step 2. Edit necessary information on your fax cover sheet and save the file.
Step 3. Edit the document in your browser. You can add a logo, images, watermarks, or anything that you require.
How to Fill Out a Fax Cover Sheet?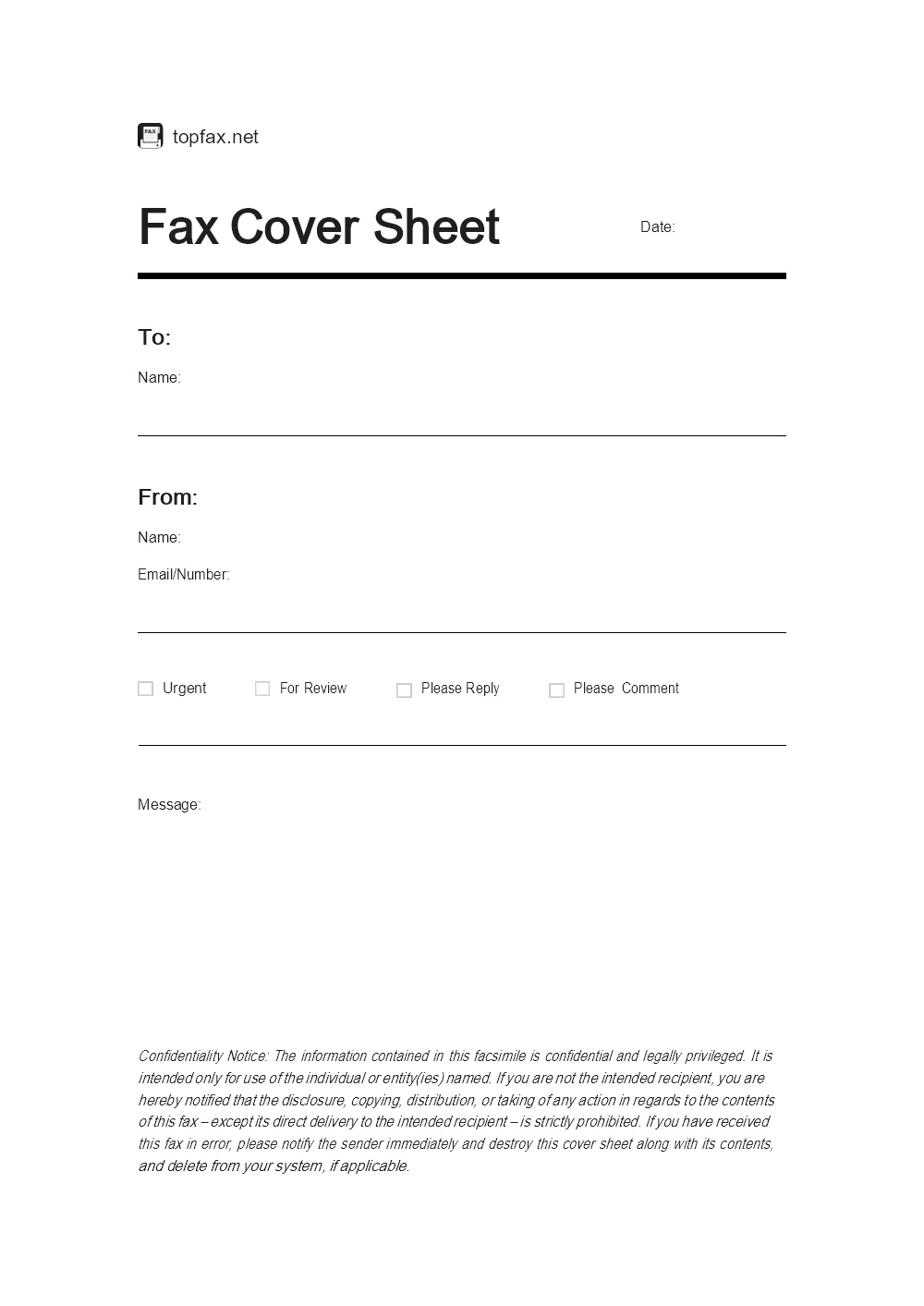 The answer is simple you just need to fill out all the blanks that are available on the templates. If you are building your own fax cover sheet, here's a comprehensive list of everything you should include on a proper fax cover sheet:
Date/Time. This can be vital for time-sensitive information. A traditional fax machine will print the date and time of transmission along the top of the fax, but if the fax machine's calendar or clock is off, you'll get the verification when you hit the "Send". With online faxing through Fax, the date/time will be included automatically.
Sender's company info – company name, address, phone number, and fax number.
Sender's contact information – name, email address, and direct phone number.
Recipient's name and fax number.
The number of pages. This will let the recipient verify that they've received all intended pages.
A short message to the recipient (optional)
A reference number or client ID to help you keep track of projects or messages (optional)
By including all the information, you make it easier for the fax to get into the right hands.
How to Add a Fax Cover Sheet?
Add a Cover Sheet to Fax While Using a Fax Machine
First, download a fax cover sheet template from the Internet or use a custom fax cover sheet designed by your company (or directly use a template provided by Fax app)
Second, fill all the blanks on the fax cover sheet and print it out.
Then, scan the printed cover sheet and combine it with the fax document you're going to fax out.
Last, send the combined fax out on a fax machine.
Add a Cover Sheet to Fax While Using Online Fax
It's much easier to add a cover sheet to a fax while using online fax than a fax machine.
First, download an online fax service to your phone and install it.
Then, fill in the sender's fax number or select the sender's number from your contact list.
Next, tap the "Add the cover page" to enter the interface where the fax cover page can be edited.
Then, scan or upload your file that's ready to be faxed out.
Last, tap the "Send" button to finish your fax.
Related Posts: