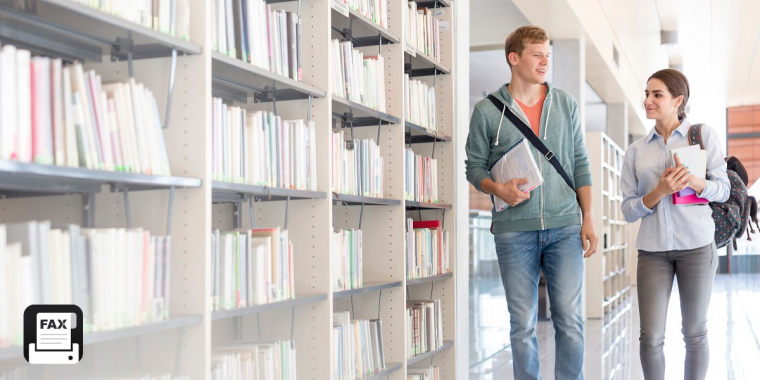 Faxes are still a necessity in many cases, but not everyone owns a fax machine and it seems impossible to do so. Fax machines, maintenance and materials can be costly, especially for those who don't use faxes quite often. Is it possible to fax papers in a library? Most of the time, the answer is yes. It's an affordable solution for those who need to send or receive faxes occasionally.
You can use a public fax machine to fax papers at the library.
Libraries typically have their own fax machines for use in the office but do not necessarily provide public fax services. You can politely make inquiries from the employees. Smiles always work well in every corner.
Libraries frequently offer printing services. If you don't have a hard copy of a document, you can scan or print it before faxing it.
The library employee will usually assist you with the faxing procedure.
How much does it cost to fax at the library?
You can usually send faxes to local and toll-free numbers for $0.25 to $1.00 a page at the library. There are only a few libraries that provide free fax services.
| | |
| --- | --- |
| One Page at the library | Dingtone Fax |
| $0.25 to $1.00 | $7.99/W, Unlimited |
Pros and cons of faxing at the library
For many people, faxing from the library is a convenient choice. In comparison to other locations that provide fax services, libraries charge an inexpensive fee.
It does, however, have some obvious disadvantages:
To begin, faxes can only be sent but not received at the library. It sometimes occurs that receiving faxes is more important than sending them. Unless you stand by a fax machine all the time, it's impossible to receive a fax document at the first moment as it arrives.
Second, libraries are not as ubiquitous as convenience stores. It's been widely known that fax services are available at convenience stores like UPS, FedEx, Staples, etc. that are located around the US, even in other countries. However, there aren't so many libraries around you so that you have few opportunities when a library is just near you as a document needs to be faxed for an emergency.
Finally, its safety must be evaluated. Personal privacy is inevitably jeopardized when public services are used. If you allow your confidential document to be exposed to a public fax machine, it'll be surely exposed to the public. That's the top essential reason why a public fax machine isn't suggested.
Without a library nearby, how do fax papers be easy and fast?
If you don't have access to a library, fax machines can be found at UPS, Post Office, FedEx, Staples, etc. However, the exorbitant charges at these locations may upset you, especially when you have a bunch of documents to fax.
Consider using an online fax service instead. It has several notable advantages, which are listed below.
Easy and Flexible to Use
Online fax services are available on most mobile devices, including iOS and Android. With an online fax app like Fax, people can send and receive fax at any time and from any location. Moreover, users are able to edit and sign documents as well with an online fax app used.
Fit for All Budgets
Online fax services can provide many excellent features at a minimal cost. For instance, there are a variety of customizable and reasonable options available in Fax. Users can select a local or international fax number, as well as the plan that best meets their needs. A fax plan usually covers unlimited fax pages and a dedicated fax number.
Safe and Secure
Online fax services enable cell phones to function as personal fax machines, reducing the risk of document privacy leakage. Also, the security of online fax services is guaranteed by technology. To secure the privacy of papers, the Fax app supports end-to-end encryption.
Bottom Line
Sending faxes is usually achievable at the library.
Although the library provides fax service at a reduced cost than other locations, it is still more expensive than an online fax service and not easy to be around one.
Online fax service has many advantages over offline fax service, such as high efficiency, low price, and great flexibility.