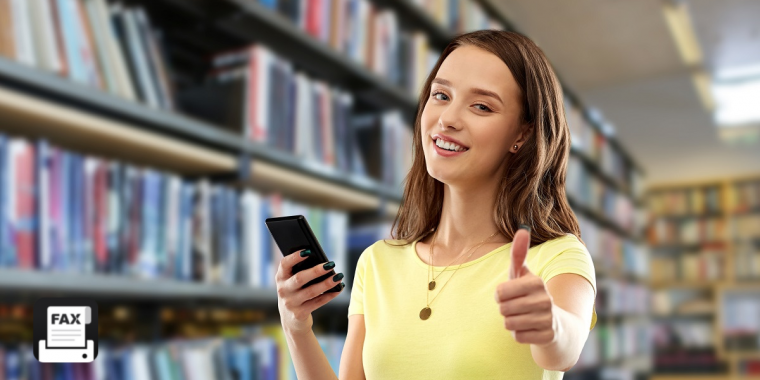 A fax app enables its users to send and receive fax whenever and wherever they want. Since so many fax apps are available on the app market, you should know the elements leading to the best free fax app so that you'll be able to pick up the one best fit for your demands in business and life.
Fax from Android Device Anytime and Anywhere
An online fax service is a dedicated fax number hosted by a service provider. In contrast to fax software or fax machines, online fax services provide users the ability to fax directly from the Internet without installing a dedicated landline in your house, as well as the ability to access or manage fax communications from anywhere you can access the Internet. The online fax service can also be combined with your Android device and make your phone a portable pocket fax machine. Your phones are used to send and receive fax without any landline phone or any extra hardware. It allows you to send and receive fax pages wherever you are without limitations.
Since there are quite a number of fax apps on the Google Play Store, the online fax apps below are suggested based on their fax-friendly features and low budget.
Easy Fax
Easy Fax allows you to transform your smartphone into a virtual fax machine. With it, you can easily fax documents, images, and receipts with just a few taps. Upon signing up, you'll be given 15 free credits which can be used to send up to 5 pages at no cost.
Features
Directly attach images from the smartphone library or scan with a webcam
Fax documents directly from Cloud storage like Dropbox, Evernote, Google Drive, etc.
Directly fax documents from other apps
Track fax status anytime
Price
Easy Fax uses credits for faxing. Users will have 15 free credits on the first login. For example, the fax to the US and Canada costs 10 credits while that to other countries 15 credits. Each fax page costs between $0.25 and $0.50 depending on how many credits you buy at once.
Simple Fax
Simple Fax allows you to easily send fax files, including PDFs, stored on your Android device to any fax number in the USA, Canada, and many international locations. After signing up, you can go to the purchase credit page to receive 15 credit for free and send the first page without charge.
Features
Send a single page or multiple page faxes.
Fax documents from mail and other apps.
Fax images from Gallery or using camera.
Provide international fax numbers and list of countries.
Archive documents by status.
Edit the PDF by signing and graffiti.
Manage fax receipt.
Price
Simple Fax utilizes a credit system for faxing. Upon registration, users receive 15 free credits. The cost of faxing to different countries varies, with rates ranging from 10 to 100 credits per page. Additional credits can be purchased or obtained by completing check-ins and watching videos.
Dingtone Fax
Developed by Dingtone, Inc., Dingtone Fax has been regarded as one of the most reliable fax apps on Google Play Store. Its faxing success rate is as high as 99.93%.
Features
Easily to send and receive fax anytime and anywhere
Directly fax images and documents from any source
A dedicated fax number, local or international
Allows you to edit and preview fax documents
Provides fax cover sheet templates for different purses.
Allows you to sign your documents
End-to-end encryption to protect your privacy
Tracks the status
Price
7-day free trial. The unlimited subscription plan starts from $19.9/month.
FAX.PLUS
FAX PLUS is a leading online fax service that enables its users to send and receive faxes via smartphones, tablets, the web, and email. Its features include simplicity, speed, reliability, and security, and it offers a free trial of 10 pages.
Features
Send and Receive faxes from smartphones
Encrypted tunnel to fax
Send fax from email
Programmable fax API
Scan documents with your mobile camera
Add documents from your device or your cloud storage
Add a cover page
Organize your fax archive by adding notes
Schedule your fax to be sent at a defined date and time
Sign files anytime and anywhere
Scan files with a webcam
HIPAA compatible
Price
Users are allowed to send 10 pages via fax without charge. The subscription plans start as low as $4.99/month.
iFax
iFax provides an easy-to-use and lightning-fast online fax service and allows users to easily send a fax like an email. It allows users to send and receive faxes using their smartphones or tablets. It enables users to fax documents from their device's camera or photo library, or from cloud storage services such as Dropbox or Google Drive. It is compliant with HIPAA.
Features
HIPAA compatible
Sign documents, fill formats and scan files from smartphones
Import documents from cloud platforms(Google Drive, Dropbox, Box, etc.)
Provides dedicated fax numbers
A free fax number for 7 days (available in US only)
Real-time mobile fax notifications & status updates
Professional, customizable cover page template
Price
7-day free trial. The basic month subscription plan cost $24.99/month with a maximum of 200 pages. The annual subscription plan costs $149.99/year with a maximum of 200 pages/month.
eFax
eFax has been a fax app for a relatively long history and has been used by many users. It allows users to send and receive faxes electronically using their smartphones or tablets. Users can sign and annotate faxes, and also view faxes in a variety of file formats, including PDF, TIFF, and JPG. eFax also allows users to send and receive faxes from their email inbox, making it easy to send and receive faxes on the go.
Features
Provides dedicated fax numbers
Send a fax to 200+ countries worldwide
Read faxes easily with an enhanced fax viewer
Sign and edit faxes
Attach files from Cloud
Include an optional custom fax cover page
Print faxes using Google Cloud Print
Fax by email, or on the website
Price
7-day free trial. The subscription plans start as low as $16.95/month.
Fax Burner
Fax Burner changes your Android device into a fax machine that can be used anytime and anywhere as long as there's Internet access.
Features
Provide US and Canada dedicated fax numbers
Push notices instantly alert you to received faxes
Fax from email
Fax-to-email support
Price
Send 5 total pages and receive 25 pages for free per month. The subscription plans start from $12.95/month.
MyFax
Features
Select a local or toll-free fax number
Send, receive and track faxes
Select fax cover sheet
Manage fax contacts
Directly attach files from Cloud platforms
Print faxes using Google Cloud print
Fax by app, web or email
Price
7-day free trial. The subscription plan starts from $8.33/month.
FaxFile
FaxFile is a HIPAA-compliant fax app. There is no monthly subscription required. To send faxes, you need to buy credits.
Features
Allows users to send faxes to the US and Canada
Supports numerous file formats faxing including PDF and Microsoft Office Word
Supports file scanning feature via webcam
Price
7-day free trial. No monthly subscription is required. After the free trial, to send and receive faxes, you need to buy credits. To fax to US and Canada, one page costs 10 credits.
Snapfax – Send Fax from Phone
Snapfax is an easy-to-use mobile fax app without a subscription. When sending a fax, you need to buy credits. It is suitable for users who fax randomly.
Features:
Scan and fax paper documents
Advanced document scanner with powerful image processing
Fax documents from Photo Library and Cloud services (iCloud, Dropbox, Google Drive, Box, etc)
Combine multiple documents into a single fax
Sign the fax document
Hide sensitive information in the fax document
Select a high-quality localized Cover Page
Import recipients from CSV file for bulk fax broadcast
Save as a draft for future use
Track sent fax's status with ease
Push notification when fax job has been completed
Automatically retry faxes that don't go through initially – no additional charge or action is required
One tap to resend the fax to the failed recipient(s).
Create/Save frequently used recipients as Favorites for repeated use
Detailed Fax Transmission Report for your record
Price
4 Credits: US$1.99 ($0.50/credit)
20 Credits: US$7.99 ($0.40/credit)
60 Credits: US$19.99 ($0.33/credit)
200 Credits: US$49.99 ($0.25/credit)
What Contributes to the Best Free Fax App for Android?
Without telling you which fax app should be selected, what you should know is all the elements used to evaluate a free fax app. The best free fax app for Android must fulfill the following requirement:
● Fax on the go from anywhere
One advantage of the online fax service is its ease of use. You don't have to purchase and install a fax machine if you prefer not to. All actions are done on the Website, and the service is thus available from any computer connected to the Internet, everywhere in the world. One small device can make you send fax freely.
● No need to look for a fax machine
Even when you're busy vacationing, you can still send or receive a document that will directly be stored in your email. You won't have to go and find a fax machine to check what your client or team has sent. Thus, online fax services allow you to respond quickly since you can access the documents anytime.
● Cost-saving and easy to use
You won't have to buy paper, ink, and machines. Though you may have to spend on an online fax service plan or subscription, the fee for this is much smaller than what you'll pay for a traditional fax machine.
● Compatible with multiple operating systems and devices
The best free fax app should be compatible with different operating systems like iOS and Android and it should be used on different devices like smartphones and tablets.
Enjoy Free Faxing with FAX Online on Android
There are several fax applications for Android that handle mobile-based faxing. You can make your phone into a pocket fax machine through Dingtone FAX.
● Easy access to files from any cloud storage app
FAX allows you to choose your files from any cloud storage app as a fax file. As long as your files are on your android device, you can pick them up to send a fax.
● Store and track faxes at any time and place
FAX offers you lifetime storage. All past faxes are memorable. You can store and track the files you once sent and received.
● Allows you to send and receive faxes from anywhere and anytime
FAX, your 24-hour friend, is always ready to help you. It is like a little fax machine in your pocket that allows you to send and receive faxes in handy.
Also Read: