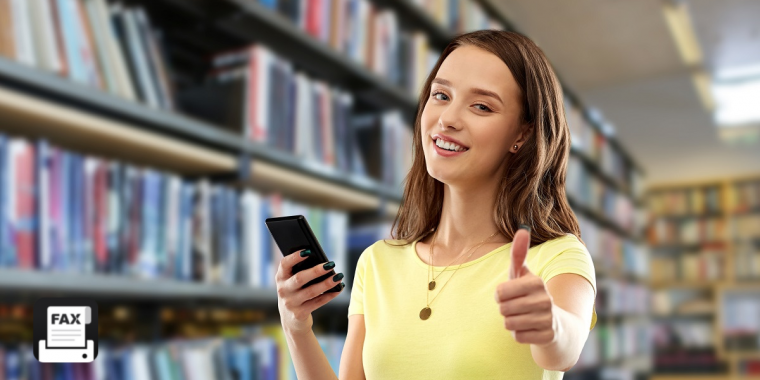 A fax app enables its users to send and receive a fax whenever and wherever they want. Since so many fax apps are available on app market, you should know the elements leading to the best free fax app so that you'll be able to pick up the one best fit for your demands in business and life.
Never Too Late to Know: You Can Fax from Android Device Anytime and Anywhere
Online fax service is a dedicated fax number hosted by a service provider.
In contrast to fax software or fax machines, online fax services provide users the ability to fax directly from the Internet without installing a dedicated landline in your house, as well as the ability to access or manage fax communications from anywhere you can access the Internet. The online fax service can also be combined with your Android device and make your phone a pocket fax machine. Your phones are used to send and receive fax without any landline phone or any extra hardware. It allows you to send and receive fax pages wherever you are without limitations.
What Contributes to the Best Free Fax App for Android?
Without telling you which fax app should be selected, what you should know is all the elements used to evaluate a free fax app. The best free fax app for Android must fulfill the following requirement:
● Fax on the go from anywhere
One advantage of the online fax service is its ease of use. You don't have to purchase and install a fax machine if you prefer not to. All actions are done on the Website, and the service is thus available from any computer connected to the Internet, everywhere in the world. One small device can make you send fax freely.
● No need to look for a fax machine
Even when you're busy vacationing, you can still send or receive a document that will directly be stored in your email. You won't have to go and find a fax machine to check what your client or team has sent. Thus, online fax services allow you to respond quickly since you can access the documents anytime.
● Cost-saving and easy to use
You won't have to buy paper, ink, and machines. Though you may have to spend on an online fax service plan or subscription, the fee for this is much smaller than what you'll pay for a traditional fax machine.
● Compatible with multiple operating systems and devices
The best free fax app should be compatible with different operating systems like iOS and Android and it should be used on different devices like smartphones and tablets.
Enjoy Free Faxing with FAX Online on Android
There are several fax applications for Android that handle mobile-based faxing. You can make your phone into a pocket fax machine through Dingtone FAX.
● Easy access to files from any cloud storage app
FAX allows you to choose your files from any cloud storage app as a fax file. As long as your files are on your android device, you can pick them up to send a fax.
● Store and track faxes at any time and place
FAX offers you lifetime storage. All past faxes are memorable. You can store and track the files you once sent and received.
● Allows you to send and receive faxes from anywhere and anytime
FAX, your 24-hour friend, is always ready to help you. It is like a little fax machine in your pocket that allows you to send and receive faxes in handy.