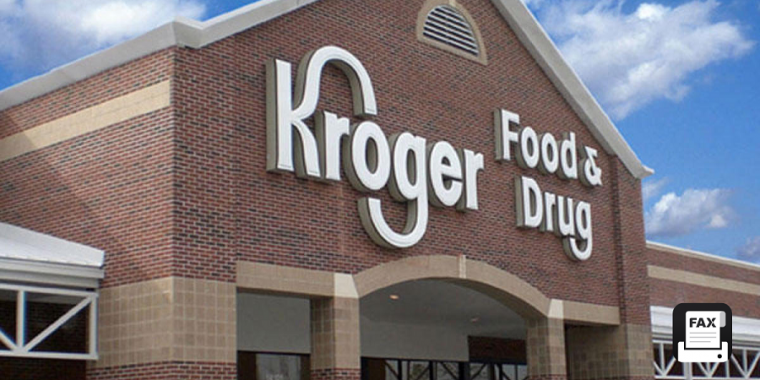 Kroger is today one of the largest retailers in the world and offers many services to its customers, including babysitting, check cashing, bills paying, card cashing, money orders, photocopying, and more. Then, does Kroger send faxes? Typically, the answer is yes.
How Can I Send Faxes at Kroger?
A public fax machine is usually provided at any Kroger store. To send a fax from a Kroger store, you should, first of all, find your nearest Kroger store and walk towards a public fax machine in the store. Before you start faxing, check the price and make sure your fax documents are ready. And don't forget to remove your paper and get it back when you finish.
How Much does it Cost to Send Faxes at Kroger?
On average, the Kroger local store charges $1 to fax the first page and $0.5 for each additional page. Keep in mind, prices may differ depending on the fax distance (local, national, international) and location.
| First Page | Each Additional Page | Dingtone Fax |
| --- | --- | --- |
| $1 | $0.5 | $7.99/W, Unlimited |
Faxing via the internet: Best Alternative to Fax at Kroger
Generally speaking, you can fax at any Kroger store. However, if you don't have one nearby (it often occurs), you can get fax services for a fee at these locations: grocery customer service, postal operations, including a post office, liaison, operating system, and so on. The cost varies depending on page count and location (local vs. remote).
Faxing via the internet is also getting popular. It can not only replace traditional fax machines for various tasks but also has many handy services. Online fax isn't simply a scaled-down version of a fax machine. However, it is more than that.
High flexibility
You can send and receive fax at any time and from any location. Online fax service allows your electronic device to become a pocket-sized fax machine and gives you access to fax functions without time constraints. From a full-sized fax machine to a pocket-sized fax machine, online fax does more than downsizing. For example, online fax allows users to edit and sign a document before sending a fax and to receive faxes at any time and place.
Low cost
The high cost of fax machines, maintenance, and materials is no longer a problem when online fax is used. A reasonably priced fax plan can substantially help you solve the issues caused by large fax documents and long distances since it usually covers unlimited fax pages and a dedicated fax number, local or international.
Full features
On top of the fundamental services, a reputable Internet fax service like Dingtone Fax app can offer the following:
Contacts – You can build up your own contact and make it easier in the next fax.
E-files – You can upload e-files stored in your device and don't have to print it out.
Third parties – You can make file selections with some excellent cloud storage applications, such as Google Docs, Dropbox.
Scan – You can scan the paperwork with your webcam on your digital devices.
Cover sheet – You can edit as you wish, including name, fax topic, contact information, etc., and select a customized fax cover sheet template from the given punch.
Signature – You can add an e-signature if you need.
Preview – You can preview all the content before you send it.
Track – You can keep track of your fax updates in real time in your app.
Notification – You won't miss any fax if you open the reminder.
Bottom Line
Kroger stores provide many services to their customers, including fax services.
The charge for faxing at Kroger is not high compared to other convenience stores.
Online fax is not simply a scaled-down version of the old fax machine; instead, it offers much more.