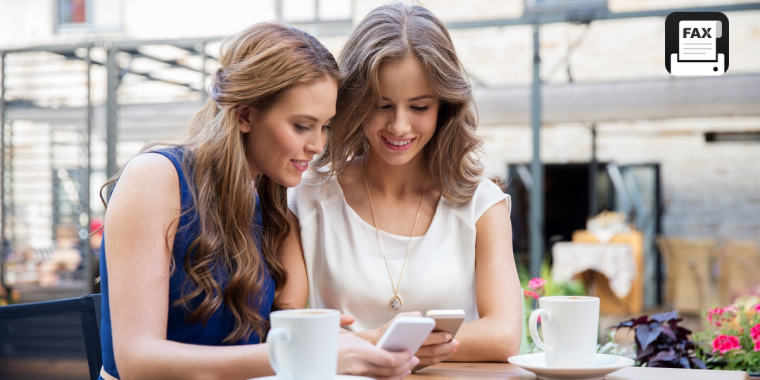 There are always times when you need to send a fax. There are still places that won't accept emails or you need to handwrite a signature. If you only fax occasionally, you don't need to spend much on a fax machine. With a fax app, your mobile phone can just work as a portable fax machine in your pocket to fax anywhere, anytime. Using your iPhone to send and receive fax pages around the world is nothing special in a digital world where everything can be done through the Internet.
Since exploring and comparing which fax app has the best fax performance and suits you best is quite time-consuming and troublesome, we made a list of the 8 best free fax apps on the market for iPhone below.
FAX FREE: Faxеs From iPhone
FAX FREE can transform your device into a fax machine. You can use your device's camera to scan documents and send faxes to any location worldwide. You can easily import files from your Photos or cloud storage, sign pages, edit documents, and fax them with just a few taps.
Features
Integrated document scanner application, allowing for easy and efficient scanning of documents.
Advanced image processing capabilities include enhancement, color correction, noise removal, and more.
Create new documents using images from Camera Roll and fax them directly from the app.
Allows for easy scanning of documents on-the-go.
Send faxes to over 90 countries.
Price
Unlimited Faxes (1 week): $6.99
Unlimited Faxes (1 month): $19.99
Unlimited Faxes (1 year): $74.99
FAX from iPhone
FAX from iPhone is an application only compatible with iOS and iPad systems, excluding the Android system. It enables users to fax from iPhone or iPad in over 90 international countries, send any file type as a fax, track sent documents status anytime and anywhere.
Features
Fax in 90+ international countries
Document scanner & image processing
Combine multiple documents into a ​single fax
Preview any document before sending
Upload any types of documents(PDF, DOC, JPG, PNG & TIFF, HTML)
Import documents from Dropbox, iCloud, Google Drive, or any other source
Track sent documents status
Price
Free (In-App Purchases start from $9.99)
FAX.PLUS
FAX.PLUS is a secure, reliable, cross-platform, and super easy to use online fax service. It enables you to effortlessly send fax from your iPhone to any country. Unlike RingCentral, you are able to insert your electronic signature on FAX.PLUS.
The most brilliant function of FAX.PLUS is that the faxes can be scheduled to be sent at a defined time and date. You can set the time you want to transmit the document automatically. In addition, the security of this app is also first-class. With two-factor authentication, TLS encryption, and world-class server infrastructure, your fax process is totally protected.
Features
Send fax from email (email to fax)
Programmable fax API
Scan documents with your mobile camera
Upload and attach your documents from your device or your cloud storage
Add a cover page to your fax
Sign your documents or faxes
Schedule your fax to be sent at a defined date and time
Retry for failed faxes feature available in the options of the Send Fax page
Receive notification of your sent and received faxes to your email address
HIPAA Compliant Faxing
Organize your fax archive by adding notes to faxes
Price
Free (In-App Purchases start from $4.99)
Fax Burner
Fax Burner can turn iPhone/iPad/iPod into a fax machine to enable its users to send and receive fax from any place and at any time. Users are allowed to sign documents, sign forms and fax them back out without ever printing. Moreover, users are allowed to directly attach files from their Dropbox and most third-party storage.
Features
Each fax received is stored as a PDF that you can email wherever you want.
Sign and complete forms electronically.
Integration with your inbox and dropbox.
Saves paper and the environment.
A special fax alert tone notifies you instantly of your new fax.
Price
Free (In-App Purchases start from $4.99)
Tiny Fax
Tiny Fax is an application for online fax with 7 years' development and millions of users around the world. It covers multiple document types including books, receipts, notes, photos, IDs, passports, whiteboards, posters, cards, letters, newspapers, screens, licenses, menus, certificates, music scores, etc. Enabling users to send and receive faxes anywhere and anytime, Tiny Fax provides extra features to better serve users such as document status tracking, file editing, etc.
Features
Fax from iPhone to numbers over 50 countries over the world
Add important sender and recipient information to a well-designed cover and sent the cover for FREE
Upload documents to Dropbox, Google Drive, Box, iCloud Drive
Check all sending status at a glance and get every success or failure notification
Organize documents and archive them into groups
Price
Free (In-App Purchases start from $5.99)
My Fax App
My Fax App is a neat app for online fax because it covers no extra features but sending and receiving faxes from the phone. It enables users to confidentially and directly share and receive documents and information from the phone.
Features
Choose a local or toll-free fax number at no extra cost
Send and/or receive up to 300 pages per month
Receive and view faxes on your iPhone or iPad
Upload files from Dropbox, Box or Drive, or scan faxes with your camera
Personalized cover page
Store faxes online as PDF with unlimited cloud storage
Print faxes using Apple AirPrint
24/7 Customer Support
Price
Free (In-App Purchases start from $8.99)
eFax
eFax is also a popular fax app powered by a reliable online fax service. With eFax, you can rest assured your critical fax will get delivered. You can create and send faxes using an iPhone camera, cloud storage, or email attachments like a mobile fax machine from this free fax app. But its monthly fee is higher compared to other online fax service providers.
Notably, eFax allows you to send more than 170 standard file formats, which includes almost virtually all standard file types such as PDF, PS, JEPG, and more.
Features
Choose a local or toll-free fax number
Send faxes to 200+ countries worldwide
Edit and sign faxes
Scan documents and upload files from your device.
Include an optional custom cover page
Save documents in the cloud with unlimited storage
Print faxes using Air Print Forward documents from your phone by fax or email Manage personal and business contact lists Tag and access faxes conveniently on your mobile device
Includes options to fax by email or from the eFax website
Free (In-App Purchases start from $16.99)
iFax
iFax enables its users to send fast faxes from iPhone or iPad. Based on the webcam on iPhone or iPad, users are able to scan paper documents and convert them into electronic files and select the personalized cover page for any fax document so as to protect the sent faxes from being read by unrelated people.
Features
Combine multiple documents into a ​single fax
Cloud storage platforms supported
Scan documents with your mobile camera
HIPAA compliant
Inbound faxing
Customizable cover page templates
24/7 Technical Support
Free (In-App Purchases start from $14.99)
What Should be Considered when Choosing a Free Fax App on iPhone?
Now that there are multiple fax apps available on App Store, it's essentially important and necessary to pick the best app from the piles. Before downloading a fax app from App Store, the following elements should be well considered so as to make an optimal decision.
Your Budget
Your budget can't decide all but truly can't be neglected. That's also why "Free" is always the top attraction when it comes to any product. It's been widely accepted that free apps are hardly free because your privacy and information are what they really want. The fax app you're going to choose must stay within your budget or your company's budget if a fax app is a must-use tool for the office.
Your Fax Frequency
Based on the cost of fax apps above, it's clear that different fax packages are differently priced with different fax pages and features. Therefore, it's of great necessity to analyze your fax frequency and pages per month so as to choose the best fax app or plan.
Your Fax Requirement
Different fax apps provide different features. What you should be clear about includes your fax document types, fax features, etc. Your fax requirement determines what type of fax app should be used.
Related Posts