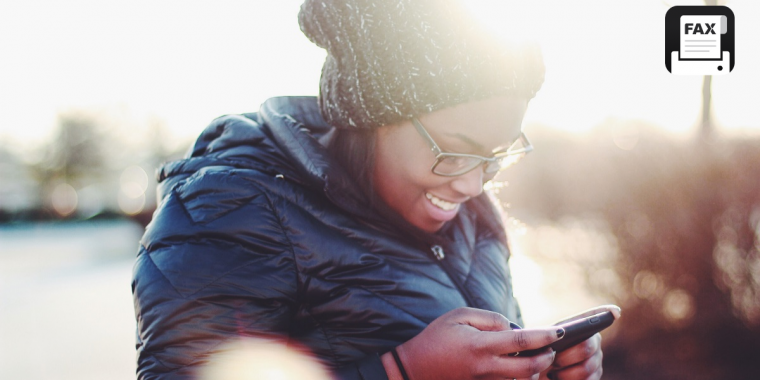 Until very recently, fax remained stuck in the past. Our mail, phone calls, meetings, and conferences went online, but a lot of us still think that fax has been out of date. Many users are unaware of how easy it is to send a fax from an iPhone, especially for those businessmen. Admit it or not, a fax machine is still a must-have office tool.
Sometimes, we need to fax something but no fax machine is nearby. Well, if you have an iPhone, you're able to send a fax from it at any time and place. Do you think it weird to consider sending a fax from your iPhone? Fax machines and smartphones were created decades apart, how can they possibly work together? If you still don't know, this article will tell you.
Change iPhone into a Pocket Fax Machine
New technologies win favor with the public nowadays, because they are offering services that the public needs. Online fax is a good example as it provides new technology that gives its users a lot of useful features that are not available with conventional fax machines.
First, with online fax, there is no need of buying new supplies or equipment. This is convenient and cost-saving. There is no need for papers, inks, toners, or a fax device. You also do not need to install or purchase a dedicated fax phone line to use for online faxing, which usually costs a lot. Every iPhone has a camera. With the camera, we can easily scan paper documents. Most online fax services have a scanning function with the camera of the iPhone.
Second, some companies still use fax machines because of document security issues. Traditional faxes are sent over phone lines because they are seen as safer. However, it is a wrong view. Online fax providers use secure, monitor-free communication channels. Your documents are likely safer sent through fax online.
Third, one of the most vital things about online fax is being portable, using the internet to send or receive faxes. Whenever there's access to the Internet or cellular data via your iPhone or any smartphone, online fax will smoothly work. Once you sign up for a given online provider, your mobile device or PC will be connected to the web to fax.
What's more, most online fax services have the e-signature function which allows users to sign fax online.
Thus, with online fax service, your iPhone can be changed into a perfect pocket fax machine that can be carried anywhere you want which makes your location independent.
How to Send a Fax from iPhone
Bottom Line
Related Post