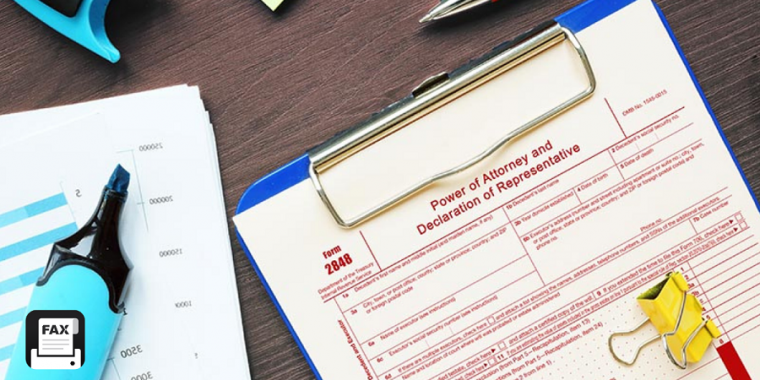 To protect your privacy, IRS employees will not talk to just anyone about your taxes. If you need to authorize a professional to handle your IRS for you, such as attorneys, CPAs, enrolled agents, enrolled actuaries, unenrolled return preparers (only if they prepared the tax return in question), corporate officers or full-time employees (for business tax matters), enrolled retirement plan agents (for retirement plan tax matters), representatives who work in a qualified Low Income Taxpayer Clinic or Student Tax Clinic Program, you will need to complete Form 2848. Then how and where to fax form 2848? This article may give you some clues.
Form 2848 requires an electronic signature and has the force of law. And fax is a secure and convenient way that is supported by the IRS. Therefore, you can submit your application via fax without any worries.
Where to Fax Form 2848
Fax numbers to IRS vary from the location you live in.
| If you live in… | Fax number |
| --- | --- |
| Alabama, Arkansas, Connecticut, Delaware, District of Columbia, Florida, Georgia, Illinois, Indiana, Kentucky, Louisiana, Maine, Maryland, Massachusetts, Michigan, Mississippi, New Hampshire, New Jersey, New York, North Carolina, Ohio, Pennsylvania, Rhode Island, South Carolina, Tennessee, Vermont, Virginia, or West Virginia | 855-214-7519 |
| Alaska, Arizona, California, Colorado, Hawaii, Idaho, Iowa, Kansas, Minnesota, Missouri, Montana, Nebraska, Nevada, New Mexico, North Dakota, Oklahoma, Oregon, South Dakota, Texas, Utah, Washington, Wisconsin, or Wyoming | 855-214-7522 |
| All APO and FPO addresses, American Samoa, the Commonwealth of the Northern Mariana Islands, Guam, the U.S. Virgin Islands, Puerto Rico, a foreign country, or otherwise outside the United States. | 855-772-3156 304-707-9785 (Outside the United States) |
* These numbers may change without notice. For updates, go to IRS.gov/Form2848 and search under "Recent Developments."
How to Fax Form 2848
There are two common methods for you to fax Form 2848 to the IRS.
Fax from a fax machine
Although fax machines aren't commonly used right now, they can still be found and used in many places including the stores like UPS, FedEx, Staples, etc. and some public organizations like libraries, banks, etc. No matter a personal or a public fax machine is used, the same steps should be conformed to like below.
Step 1. Print Form 2848 from irs.gov and fill it out according to instructions.
Step 2. Sign your signature on the required area.
Step 3. Put your form into the document feeder. This step may be helped to be done by the staff of a store providing faxing services.
Step 4. Enter the recipient's fax number (see above).
Step 5. Send and check the confirmation.
Fax from an online fax service
Online fax enables users to fax from their phone, tablet or computer no matter where they are at any time.
Step 1. Download and install the Dingtone Fax app on your mobile device.
Step 2. Create an account and get a tax plan based on your favors on the app.
Step 3. Start fax and fill in the fax number of your recipient.
Step 4. Scan your Form 2848 if you've filled and printed it out or directly attach it from Google Drive, Google Docs, or any third-party source.
Step 5. Edit your fax documents such as adding a cover sheet or a signature.
Step 6. Preview and send.
Compared with a fax machine, online fax is the better way to send a fax because it cuts your cost on the fax machine, ink, toner, landline, and more, and provides you more flexibility and convenience allowing you to send and receive faxes at any time and anywhere. Moreover, it also lets users track the real-time status of all faxes.
Bottom Line
Sending form 2848 to IRS by fax is secure and efficient.
Fax number varies depending on where you live.
Virtual fax service helps you fax quickly and cheaply.
---
Related Forms to Fax to IRS