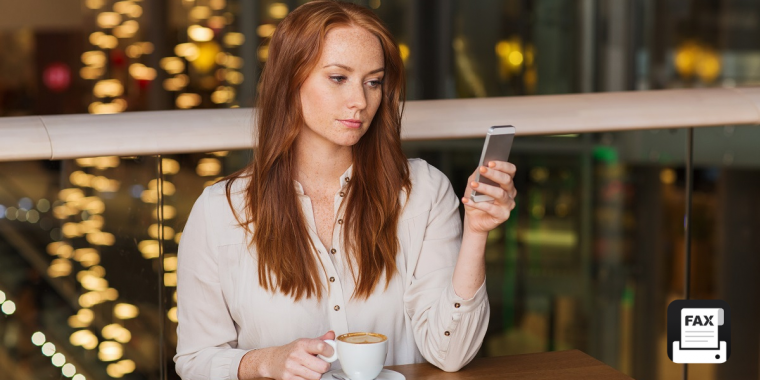 DOC, TXT, PDF, and JPG are all common file types we send or receive in our workplace or study life. But it turns out that the PDF format has become the preferred file type in business and job-seeking because of its graphic integrity and universal compatibility. Below is a brief introduction on how to fax PDF from your iPhone.
A Simple Trick, a PDF file can be faxed from iPhone
There are many benefits of sending a fax as a PDF attachment since it's also one of the most used file types in the world. Wouldn't it be nice if the powerful iPhone in your pocket could fax a PDF document for you quite easily? It may provide you with great convenience after knowing how to deliver a fax from your iPhone.
No need to draw support from other tools or convert your documents to other formats and send, a PDF file can be delivered directly with an online fax app installed on your iPhone. How can you achieve that? The answer is simple, just go on reading it.
How to Turn Your iPhone into a Pocket Fax Machine?
Forget about the fax machine or public fax service, you can fax from your iPhone as long as you get the fax app downloaded and installed on your iOS device. It is fast, hassle-free, and incredibly easy to fax from an iPhone. You only need a few clicks on the phone screen.
Online fax service providers such as Dingtone FAX have the ability to change your iPhone to a pocket fax machine. You can fax from anywhere at any time without paper or a dedicated fax line. It has the advantage of reducing costs, improving work efficiency, and protecting our environment.
How to Fax PDF from iPhone?
If your PDF file is in email, you can send your fax by composing a new email and attaching your PDF document to it. This is similar to sending a regular email message. You can learn how to send a fax via Outlook or Gmail in more detail on our website. (Outlook / Gmail)
If your PDF file is in the cloud, you have to grab files from the cloud first, then attach them to your fax app, and hit the "Send" button.
If your PDF file is from other apps, you need to open the app that has the document you want to fax. Then select the PDF file and press the "Open In" or "Share" button and find our FAX app to import the document.
Additionally, you can also scan your PDF file from page to page using the webcam on your iPhone and send it through the Dingtone FAX app.
Bottom Line
It would be nice if the powerful iPhone in your pocket could fax a PDF document with ease.
You only have to download a suitable online fax app to turn your iPhone into a pocket fax machine. FAX offers you a dedicated online fax number to fax to more than 100 countries.
There are several ways to send a fax via an iPhone depending on the storage location of your PDF file which we have listed above.