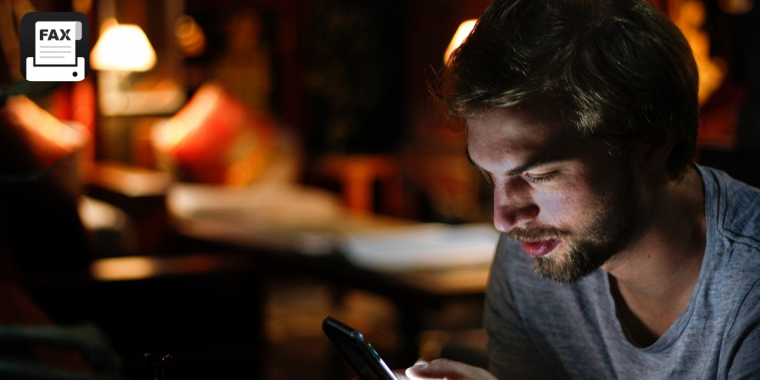 Compared with fax sending, it's more difficult to receive a fax even though a fax machine is near you. Is it secure? Is it public? Is the number reachable by the sender's calling? To receive a fax on iPhone or your personal phone saves you both effort and time.
Sometimes, receiving fax is more difficult than sending one.
Have you ever tried to send and receive a fax with a fax machine? Maybe you can understand the anxiety and vexation I have been experienced.
The process of sending and receiving a fax from the conventional fax machine seems to be archaic because it was invented before the Internet, which is, of course, a totally troublesome process.
Receiving a fax is much more inconvenient than you think. Dedicated fax lines are used exclusively for faxing, but they can only take care of one call at a time. You may miss the call due to your absence or if another person wants to send you fax while you are transmitting one, he or she will have to wait until your line is free.
These days, traditional phone lines barely get any use—let alone dated, manual fax machines. If you use a fax machine, it's difficult to know if a fax was received. The only thing you'll possibly know is that your fax has been successfully sent but the thing you can't be sure about is whether the right recipient receives it.
To stop missing out on any important files, you should be notified at the first moment when faxes arrive.
What should you do to make this progress easier and more convenient? We can't carry the fax machine here and there, but we won't leave our iPhone alone at home or office. And no one will be busy online instead of yourself.
With iPhone as a fax machine, you will not miss any important files. A fax can be received from your iPhone where a local or toll-free number can be got for free that plays as a fax number. Therefore, you will get notifications as soon as any fax arrives. Isn't iPhone the best option? It frees you from that stiff machine and gets you out of the office to work flexibly.
How to receive fax on iPhone
Step 1. Download the Fax app from the App Store and install it on your iPhone or iPad.
Step 2. Register for an account on the Dingtone FAX app and purchase a fax plan at a low cost.
Step 3. With the plan successfully purchased, you'll be able to get a local or international number as your dedicated phone line for fax.
Step 4. Go to your iPhone's settings and enable the notification from the Dingtone Fax app and you will receive a push notification as soon as there is new fax in your inbox and you can check the received documents inside the app. Moreover, as you send a fax from your iPhone via the Dingtone Fax app, you'll be able to track the status of the fax file anywhere and anytime.
Bottom Line
Sometimes, receiving a fax is more difficult than sending one.
Your iPhone allows you to receive a fax at any time and place and monitor the status of fax files.
Follow the steps in this article to receive fax on iPhone no matter where you are.