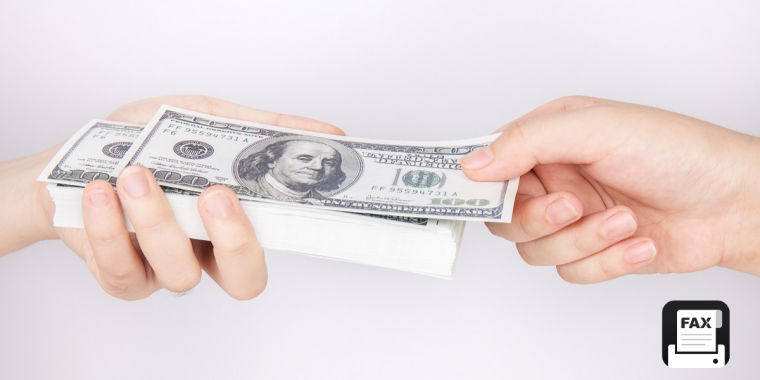 Do not have a fax machine, but need to send or receive a fax? Going to the nearest United Parcel Service (UPS) store in your area may be one of your choices.
The United Parcel Service (UPS) is more than a big shipping and logistic company. It also offers you fax and printing services all over its shops. You have access to the fax machines in the UPS stores to send and receive reliable signatures, official documents, and more.
How Much does UPS Charge to Fax?
The prices of the UPS fax service vary by area and store. Normally, it ranges from $1 to $5 per page, but it may be lower or higher. The charging standards for each page of domestic and international numbers are also different.
Approximately, the price of local fax is $1 for the first page, with additional pages at $1 each.
To fax nationally, it costs $2 for the first page and you will be charged $1 for each extra page.
If you want to send international faxes, the price per page and per additional page will be higher. They might charge you $3 for the first page and $3 each for additional pages.
| | First Page | Each Additional Page |
| --- | --- | --- |
| Fax Locally | $1 | $1 |
| Fax Nationally | $2 | $1 |
| Fax Internationally | $3 | $3 |
Fax Price at UPS
How to Send a Fax at UPS
Go to the UPS Store website and find the nearest store.
Take a trip to the store and indicate your needs.
Give your document and the recipient's fax number to a staff member that's available to assist you.
Wait for the connection to be established and your documents to be scanned on the fax machine.
If your fax document is successfully sent, remember to pay a nominal fee per page for faxing services.
That is the whole fax process in a UPS store, which sounds easy to some extent. By the way, if you are not familiar with the fax machine operations, which is totally understandable since the fax machine is kind of outdated and not easy to handle, you can ask the staff at the UPS store for help to make sure that your file gets to the destination on time. But if there is not a UPS store in your location, this can be tricky.
Local Fax Services to Send a Fax near You
FedEx
UPS
Staples
Office Depot
Locally
(First Page)
$1.89
$1
$1.79
$1.49
Locally
(Each Additional Page)
$1.59
$1
$1.59
$1.29
Nationally
(First Page)
$2.49
$2
$2.39
$1.99
Nationally
(Each Additional Page)
$2.19
$1
$2.19
$1.79
Internationally
(First Page)
$5.99
$3
$5.99
$7.99
Internationally
(Each Additional Page)
$3.99
$3
$3.99
$3.99
Hours of Operation
Business hours. Rarely 24/7
Business hours. Rarely 24/7
Business hours. Rarely 24/7
Business hours. Rarely 24/7
Where to Fax
In store only
In store only
In store only
In store only
No UPS nearby? Try Online Fax
To be honest, UPS fax service is not the best choice as there are cheaper, easier, and securer fax alternatives, such as the soaring online fax apps.
The disadvantages of faxing at UPS are quite obvious in terms of accessibility, security, and price. First of all, taking a trip to the UPS store is time-consuming and inefficient. There is also the possibility that you don't have direct access to the fax service, because a UPS store is not available at your location or it is really far away.
Besides, if you are sending or receiving a confidential document, the associate of the store who provides you with help might obtain your file and leak your data. You may suffer from serious losses for this.
With an online fax app like Dingtone FAX on your device, the fax process is largely simplified and digitalized. There is no need for a fax machine, a dedicated number or to drive to the UPS store personally. The whole fax process can be completed within a few clicks. In addition, the UPS fax service is actually much more expensive than faxing online because it charges per page. As a result, you can save a lot of money and time with online fax services.
Related Posts