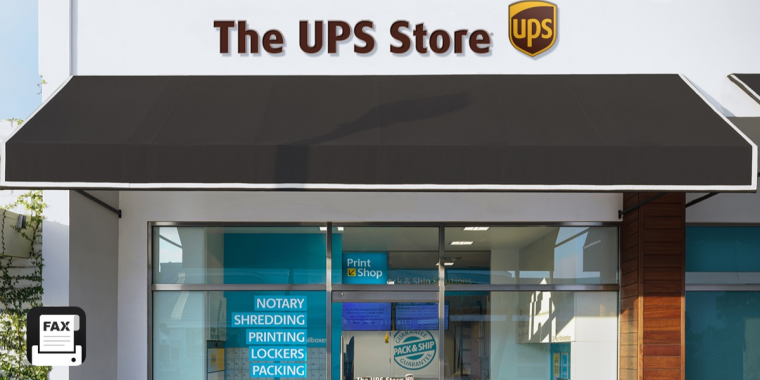 It's impossible to carry a fax machine everywhere and UPS stores can be used since you can send a fax as you go for a business trip or vacation while your office fax machine isn't available.
Can I Fax from UPS Store?
The UPS Store is a subsidiary of United Parcel Service which provides customers shipping, printing, shredding, offline fax services, and more. With more than 5,000 convenient UPS Store locations, you can visit the store and transmit your document effortlessly.
You can send and receive a fax at the UPS store. UPS stores also provide fax cover sheets. Even if you are not a faxing expert or have never used the machine before, your fax will get to its destination on time with the help of the warmhearted UPS staff. Once you arrive at the UPS store nearest to you, everything will be easy afterward. Compared to other local fax service providers, the cost rate of UPS fax services is comparatively lower.
Steps to Fax from UPS Store
Go to The UPS Store website and find the location nearest to you.
Take a trip to the store and indicate your needs.
Give your document and the recipient's fax number to a staff member that's available to assist you.
Wait for the connection to be established and your documents to be scanned on the fax machine.
If your fax document is successfully sent, remember to pay a nominal fee per page for faxing services.
How to Find the Nearest UPS Store to Fax?
By using the fast and convenient network resources, finding the closest UPS Store to fax is just a piece of cake. Generally, you have two options to achieve your goal.
On the one hand, The UPS Store website sweetly provides you with a searching service. You can tap your location or the store number in the box on the left of the website. All available stores will be sorted and displayed according to the distance after submission. You have access to all the detailed information like phone number, store hours, and appointments by clicking the "View Local Page" button.
On the other hand, you are able to directly search for the UPS Store on Google Maps. In addition to the basic address and contact information, you can also see the evaluation and photos of the specific store on Google Maps.
Apart from Fax, What Else Can You Do at a UPS Store?
Apart from a fax, the UPS Store integrates many related helpful services for its clients as well. The major one is its domestic or international shipping service. No matter how big or bulky your item is, the UPS Store will send it to any place it needs to go. The packing will also be handled by certified packing experts to correctly pack and ship your items securely.
Moreover, small business essentials like printing, scanning, and mailing are also available to help you manage and grow your business. For example, the printing service of the UPS Store enables you to obtain large printed banners when you are opening a store and full-color postcards to promote your business.
Is UPS a Convenient Way To Fax Documents?
The UPS store is convenient to fax documents if there is a UPS store just near you. If not, it can be time-consuming to find a UPS store and take a trip to the store.
If you do not know how to use a fax machine, it can be difficult to figure out how to fax with the fax machine. You may need to find a staff to help you.
If you have multiple pages to send, it can be costly and time-consuming since you need to page for each additional page and each page may take one minute to send.
UPS fax services are not available on 7/24, which means you can not send or receive fax out of the operation hours. Moreover, due to Coronavirus, some UPS stores may be closed.
Online Fax: A Convenient Alternative to UPS Fax Service
The online fax service is a far more convenient solution, especially when you are looking for a nearby fax machine urgently.
With an online fax app like Dingtone Fax, you can easily send and receive documents from anywhere and at any time with your smartphone. You don't need to spend time searching for a local UPS store and taking a trip to the store during operating hours.
Furthermore, online fax provides you with many useful features that a fax machine does not have, such as digital signatures, group delivery, and a progress tracker. It's cheaper, safer, and more convenient.