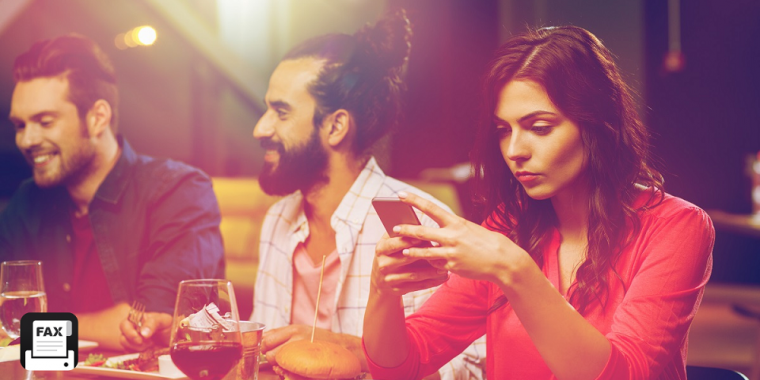 The fax has been regarded as a significant form of business communication which is carried out through fax machine. With the progress in technology, the fax machine has become obsolete. However, faxing is still mainstream across the market. Faxing over the Internet is a proficient method of sending and receiving important and confidential documents in a fast and secure way. This guide will provide you easy steps to send a fax over the Internet.
Fax over Landline vs. Fax over Internet
Traditional Fax Machine over a Landline
A fax machine is still an important method for transmitting documents, forms, and hand-written notes. A fax machine uses an active telephone landline to send and receive documents, and using one is as easy as dialing a telephone number. Once you properly set up your fax machine and familiarize yourself with the methods for sending and receiving a fax, you'll be sending documents with ease in no time.
Online Fax Service over the Internet
Online fax service over the Internet is easy to operate. With several steps, you can simply send a fax over the Internet. You can also send and receive faxes anywhere and anytime. It's a great advantage to a remote team. And if you have multiple offices, you will benefit from online faxing whether you're a small business or a large enterprise. Online fax service is cost-effective. You no longer have to pay extra fees just to fax. Online fax service is of high security. It sends important and confidential documents to the direct recipient immediately, without letting them be exposed to the public.
Comparison
The traditional fax machine is usually heavy, which is difficult to carry around. That's why you never hear about a "personal fax machine" since it's usually owned by a company or organization, instead of individuals. If you fall into an emergency to send a fax over a landline, it's extremely difficult because a fax machine isn't usually available.
However, with an online fax service, you can fax anywhere and anytime as long as your device has access to the Internet or mobile data. In addition, an online fax service is far more secure because it's used on your personal device. Traditional fax machines print out fax, which stays there until someone picks them up. Online faxing delivers documents to the direct recipient immediately. Besides, an online fax service is cost-effective. You don't need to pay extra fees, such as ink, toner, paper, etc.
To Send a Fax over the Internet, What Exactly Do You Need?
What things do you need to send a fax over the Internet? You need a mobile phone, tablet, laptop or computer. Of course, you need Internet, documents and fax numbers. Apart from the Internet access and device, an online fax app provides you everything to send a fax over the Internet. With an online fax app installed and used on your device, you'll have:
A fax number, local or international
A fax cover page template
Access to all your contacts
Access to all your files stored in the cloud and drives
Real-time notifications for any fax file that is sent and to be received
A scanner via the webcam on your device
How to Send a Fax Over the Internet
You can read the following instructions to learn how to send a fax over the Internet with a smartphone as an example.
Step 1. Download and install Dingtone Fax on your smartphone.
Step 2. Fill in the fax number of the recipients, either local or international.
Step 3. Add a cover sheet to your fax file indicating the basic information about your fax.
Step 4. Scan your file with your webcam on your smartphone or directly attach your file in the cloud or third-party file storage services like Google Doc to your fax.
Step 5. Follow the steps of edit and preview and you'll be able to fax your file out from your iPhone.
Bottom Line
Compared with a traditional fax machine over a landline, online fax service is easier, more securer, and more cost-effective.
Apart from the Internet access and the device, an online fax app gives you everything you need for faxing.