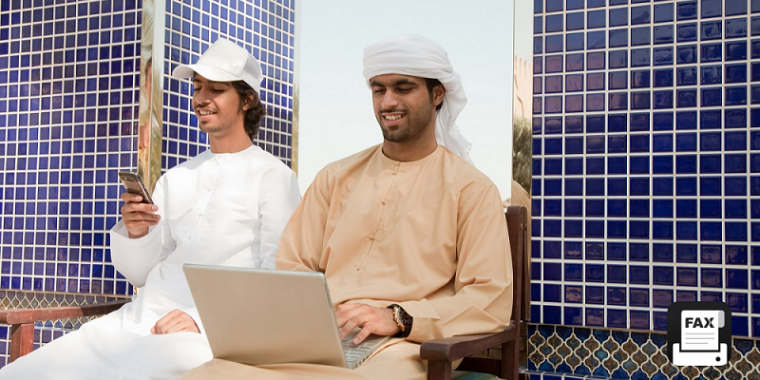 If you're a small business owner and looking for an alternative to SRFax, then you've come to the right place! You may be familiar with SRFax because it's one of the largest alternatives to traditional fax machines and lets you send or receive faxes anywhere in the world. However, if you want more features and security when it comes to your business demands and requirement, this comparison guide will show you why an alternative like Dingtone Fax is better than SRFax.
What is SRFax?
SRFax is a Canadian-based company offering Internet fax service in North America which enables users the convenience of email and the mobility of the Internet to make it easier for them to send and receive faxes. SRFax is used by individuals, small, medium, and large businesses to send and receive faxes through email.
How does SRFax Work?
Sending and receiving faxes with SRFax is easy. Just sign up for an account, choose a local or toll-free number, and start faxing. You can send faxes from your computer, email, or mobile device. And, if you need to receive faxes, just set up your account to forward them to your email.
While faxing from your email address isn't as secure as sending from a dedicated fax machine or phone line, it does have advantages. It gives you easy access to important documents and communications – no matter where you are. With an email-to-fax service like SRFax, it's easier than ever before to receive and send faxes without a fax machine.
How Much Does SRFax Cost?
SRFax is a popular online faxing service, but it can be pricey for some users. The service starts at $7.95 per month for 500 pages and goes up to $49.95 per month for unlimited pages. There are also pay-as-you-go and monthly plans available. For instance, the $15 plan allows you to send 10 faxes over the course of 1 month. If you want more control over your pricing structure and don't need all of the features SRFax offers, other options may be better for you.
Is SRFax Safe and Legit?
Overall, SRFax is a decent option for online faxing. It's been around for a while, has a good reputation, and offers some features that other services don't. However, we're not convinced that it's the best option out there. For one thing, you have to pay for each page that you fax – which can get expensive quickly if you're sending multiple pages. In addition, SRFax doesn't offer the level of security that some of its competitors do – so if this is important to you then this might not be your best choice. The same goes for storage limits – they're really high (500MB), but they could still present a problem in certain circumstances. While this may not be a big deal for many people, we want to make sure everyone knows what they're getting into before signing up.
Is SRFax HIPAA Compliant?
Although SRFax markets itself as a HIPAA-compliant service, there are some potential privacy concerns that you should be aware of. When you sign up for SRFax, you're required to provide personal information such as your name, address, and credit card number. This information is stored on SRFax's servers, which are not necessarily secure. In addition, SRFax does not use encryption to protect your faxes in transit, meaning that they could be intercepted and read by anyone. If you're worried about the security of your fax communications, consider switching to another solution.
Best Alternative to SRFax: Dingtone Fax
Dingtone Fax is the best alternative to SRFax for a number of reasons. Dingtone Fax offers all of the same features as SRFax, but at a lower price point. Plus, Dingtone Fax has top-notch security features and 24/7 customer support. You can also share your fax number with up to 10 people, which is perfect if you want others in your company to be able to send and receive faxes on behalf of your company. Finally, Dingtone Fax lets you save documents directly from the email into a shared folder. In contrast, SRFax does not offer this feature so if you need something more than just sending and receiving text messages then Dingtone Fax might be better suited for your needs. Also, Dingtone Fax supports Apple products including iPhones and iPads. And lastly, Dingtone Fax is compatible with any modern operating system while SRFax only works on Windows XP SP3 and higher versions.
With these great features, you'll wonder why you ever used anything else! In addition, when you upgrade to an annual subscription plan for only $12.99 per year (which equates to less than $1 per month), you get up to 10 credits per day! Plus, if you ever forget your login credentials, we offer two methods of recovery: email retrieval or SMS text message retrieval. For a limited time, we're also offering a 50% discount on our Premium Plan which gives you unlimited sending ability. All this at the click of one button? It's almost too good to be true! So what are you waiting for? Download Dingtone Fax now and make sending faxes easy again!