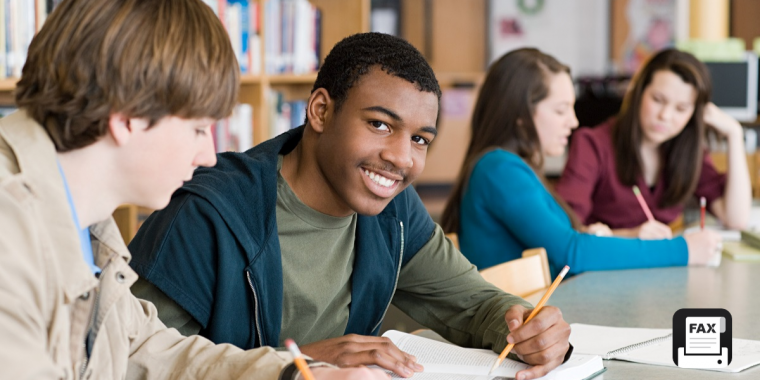 With HelloFax, everyone in your company can conveniently send and receive faxes online. Fax machines no longer have to wait for faxes to arrive or confirm that they have been sent. Instead, incoming faxes go directly to the recipient's inbox, while outgoing faxes are sent online from your computer. However, there are alternatives to HelloFax and they're worth trying as well.
What is HelloFax?
HelloFax is an excellent online fax service that offers a great user experience, great value for money, and a built-in editor that makes working with attachments easy. It lacks a dedicated mobile app, though. While the practice of sending faxes still exists, thanks to online fax services such as HelloFax, actual fax machines can finally be placed in a technical history museum. This excellent service has a sleek, modern interface that makes it easy to send and receive faxes from the web or from the comfort of your email client. Its integrated form-filling and digital signature capabilities mean you never have to go through the hassle of printing and sending documents manually. Although we're disappointed by its lack of a mobile app, HelloFax remains an Editors' Choice winner.
How does HelloFax Work?
The process of sending a fax with HelloFax is simple.
First, you upload the file by dragging it in or clicking the upload button. Once done, you can edit and sign the document before sending the fax. Of course, you have to enter a fax number or email address to send. HelloFax is known for providing smooth service here, with virtually no lag when faxing. Send faxes directly from your inbox by attaching files to an email and sending them to a 10-digit fax number. You can't customize the fax cover sheet, although HelloFax is working on it – that feature will be available sometime in the future. Inbound faxes are sent to you in PDF format, which can be viewed in the Documents area. You can also decide whether you want to be notified when documents arrive at you. The service offers a range of different fax numbers, but they are only available in Canada, the UK, and the US. Although users can port their numbers, toll-free fax numbers and dummy fax numbers are not supported. Faxes are sent simultaneously to more than 70 countries around the world and to multiple recipients. Finally, there is a range of team management tools designed to make it easier to coordinate work when working in small teams. Each team member can send and receive faxes through their email server or the HelloFax portal. Users can be added or removed for free.
How Much Does HelloFax Cost?
HelloFax's free tier lets you send up to five fax pages, but you can't receive faxes with this plan. Page allocations are also not refreshed monthly. Subsequent faxes (up to 10 pages per page) cost 99 cents plus 20 cents per page over this limit. You can get more pages by tweeting about HelloFax or referring a friend. This free account supports integration and electronic signatures.
If you just need fax services to occasionally send documents to your doctor or insurance company, HelloFax's free service is reasonable, especially considering that most fax services don't even offer a free tier. Many competing services even require a credit card to sign up for a trial account.
Is HelloFax Safe and Legit?
Security is more important than ever, and HelloFax won't let you down. 256-bit AES encryption, or in other words, high security, is available on the platform servers. HelloFax also collects negligible data from users and does not store the contents of your faxes – you can always contact the team to request that the stored data be deleted. Transport Layer Security protects your faxes during transmission.
Is HelloFax HIPAA Compliant?
Yes, HelloFax has declared that it is HIPAA compliant and will likely sign a Business Associate Agreement (BAA) for companies that meet certain annual spending thresholds.
Many telcos act as conduits for data transmission and are exempt from business associate agreements (BAAs) through the conduit exception rule. Information shared over the phone or using a standard fax machine is not subject to HIPAA compliance. However, other means of communication, including VOIP, SMS, and digital fax services, must be HIPAA compliant. Because HelloFax uses digital faxes, not regular fax machines, the service must provide privacy and security features if protected entities use the system. HelloFax provides AES-256-bit encryption for messages at rest and TLS encryption for messages in transit, meeting minimum HIPAA standards. Additionally, each document is encrypted with a unique key, which is encrypted with a master key that rotates frequently, which means that if unauthorized people gain access to the hard drive, they will not be able to decrypt the data. HelloFax advertises "bank-grade" security, including physical and electronic protection. Data centers always use strict access controls. Thanks to these security measures, the HelloFax system can be used without violating HIPAA requirements
Best Alternative to HelloFax: Dingtone Fax
If you're looking for a great alternative to HelloFax, we highly recommend Dingtone Fax as it offers a competitive price, great features, and top-notch security.
Send and receive faxes easily anytime, anywhere
Fax images and documents directly from any source
Local or international dedicated fax number
Allows you to edit and preview fax documents
Fax cover templates for different wallets are available.
Allows you to sign documents
End-to-end encryption protects your privacy
Tracks fax status
In addition, the monthly fee for Dingtone Fax starts from only $2.99/month, including unlimited faxing! There are no setup fees and you don't have to buy expensive hardware, but if you want to make faxing easier, you can purchase optional hardware packages.