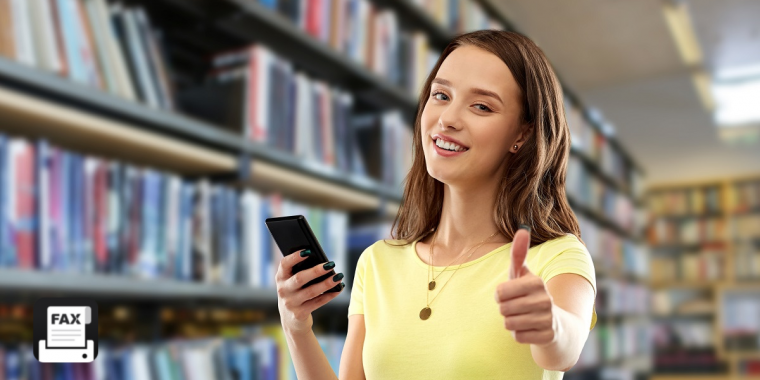 You may occasionally need to send a fax. However, not many people even have access to fax machines. Although it is expensive and inconvenient, you could always pay to use an actual fax machine at your neighborhood print shop. The answer is straightforward: use an online fax service. With internet fax services, you may replace outdated fax machines with more advanced digital communication. You can transmit documents to recipients without fax numbers and without using a fax machine.
When compared to conventional fax machines, online fax services have many advantages. But how can you pick the best online fax service, and is it effective? When selecting the ideal internet fax plan for your company, keep the following factors in mind.
A List of Queries for Top Online Fax Services
It may seem overwhelming to select the best online fax service. There are a lot of businesses, so it might be challenging to sift through the online fax service reviews to determine which one you should entrust with your business.
Knowing what you want from a faxing service is essential before selecting one. The following is a short list of queries you might have about contemporary faxing solutions.
Can the faxes be digitally signed using a previously saved signature? You should be able to store your electronic signature for quick and easy future use with the correct faxing service.
My fax number, can I keep it? Yes! To minimize the trouble of switching numbers, faxing services should let you keep your current one. It can handle everything if you only want to keep your fax number when signing up.
How complicated is online faxing? If you choose a good service, sending a fax should be as easy as sending an email—only more direct and secure. To send a document to the recipient you've chosen with a receipt delivery, just scan or attach it.
Is it possible for me to obtain a global fax number? A global number for your fax service is crucial if your company operates internationally. To ensure that your foreign services may continue without interruption, your fax service should provide international numbers within their coverage zones.
Can I send and receive faxes from abroad? Why feel constrained to just your nation? You can send faxes electronically to any country where your faxing provider gives services.
Are there busy signals on internet fax lines? You don't have to worry about whether your fax will be received while using electronic faxing, which is another advantage. You won't ever miss a crucial document, and senders never encounter a busy signal.
What equipment is compatible with internet fax? Your smartphone, laptop, iPad, tablet, or computer can all be used to send faxes directly. Accessing electronic faxes is made possible by a variety of devices, which is one of their best features. No longer do you have to feel confined to the office's dated fax machine!
What tools are required for internet faxing? You don't require anything that you don't already have with today's faxing solutions. No cumbersome, pricey fax machines! Simply click a few buttons to send faxes from your smartphone, tablet, laptop, or desktop. To make it even faster, download our app!
Which kinds of documents can be sent? Whatever document formats you want to transmit, your faxing provider needs to be able to handle them. Your service must transmit the files you use, such as PDFs, JPEGs, and more. To submit paper documents electronically, a superb provider will even let you "scan" them using the camera on your mobile.
How can productivity be increased? Of course, if your faxing platform doesn't make secure document sharing simple, it's not much use. Your online faxing service should help you speed up your daily duties whereas scanners and fax machines will make you work more slowly. More quickly than ever before, receiving, saving, editing, and sending faxes should be made simple by features like stored signatures.
8 Factors You Should Consider in Your Online Fax Service
Pricing should not be the main consideration when selecting a fax provider. Because every provider is unique, you must conduct research and evaluate services before making a choice. When picking an online fax provider, there are a few important considerations to keep in mind despite the fact that the specific offerings may appear to be similar. Here is a list of 8 factors you should consider when determining which online fax plan best suits your needs.
Easy-to-Use Interface
Can I use internet fax if I'm not good with technology? It is a question we frequently hear. Yes, you can. An electronic fax can be sent if you can send an email with an attachment. Sending a fax online should be simpler than sending one the old-fashioned way.
You should pick a faxing service with an intuitive user experience that makes navigating the platform and apps feel natural. How to add signatures, update, attach, and choose recipients shouldn't be difficult to understand.
High-Level Security Protocols
When faxing online, security should be one of your main priorities. This is especially important if you send sensitive data like financial or medical details. Furthermore, For firms in every sector, confidential communication is essential. Hackers and online crooks may use conventional fax machines as a tool to steal your information. Thankfully, practically all fax providers now give security options including password protection and encryption.
Our software also sends encrypted documents, unlike email, making data theft impossible. This makes it easier to transfer confidential information to customers, patients, businesses, and other entities. Selecting a firm with servers that ensure reliable uptime and secure transmission for all of your faxes is crucial.
Very Good Customer Service
One of your top priorities when looking for a fax provider should be one with good customer service. Why? Over time, you'll require assistance using the program. When that occurs, you'll want to speak with a real person who can help you right away.
You should have access to choices such as live chat, email, and phone calls for your convenience. In case you have questions or need assistance troubleshooting your faxing services, pick a service that provides helpful support. You don't want to be abandoned in the event that something goes wrong.
Enough Cloud Storage and Large File Sharing
For a number of reasons, Large cloud storage is crucial. First, by keeping all of your faxes in a single location, you can easily manage and find them. The flexibility to access your faxes from any device at any time is the second benefit. Thirdly, even if your physical data are destroyed, you never have to worry about losing crucial faxes.
In addition, your service should allow you to send huge documents and files. Large email attachments are frequently prohibited and labeled as spam. Important photographs, documents, and videos don't need to be compressed if your electronic faxing service offers large-file sharing. So, choose an online fax service with large storage and large file sharing if you want to ensure a quality print sometimes.
Reasonable Pricing and Options
The majority of fax service providers provide monthly and yearly subscriptions, however, a few also offer unique pricing for commercial programs. For people who frequently transmit faxes, monthly memberships can be a fantastic choice. Finding a service with affordable prices, nevertheless, is essential. If you don't, you can end up spending more than you should.
Do you require a large user base for your online fax service? The number of users on your team will be accommodated by the appropriate package. Typically, smaller packages have fewer email addresses. The number of users you require on your account shouldn't be overpriced.
Convenient Remote Work
Does your company frequently conduct remote work? Do workers need to be able to get faxes while on the go? If so, focus in particular on the service's mobile capabilities, including how user-friendly it is, whether it has all the features you require to be able to use it remotely, and how well the app is created and supported.
With just a few clicks from any device, you may use faxing thanks to practical software. A strong platform ought to provide simple-to-use solutions that your team can use. You should have no trouble switching from email to online fax thanks to the design's simplicity.
Covered Regions
Which countries are included in the bundle may be a deciding factor when selecting an online fax service. To interact with partners and clients wherever they may be, pick a service that has grown to include a number of nations.
Many firms in the modern environment need to be able to engage with people outside of their home country and beyond. Don't get left behind by businesses with a larger footprint.
Automation-enabled Simplification and Acceleration
The fundamental appeal of online faxing for many firms, especially as they grow and scale, is its automation-enabled simplification and acceleration. To be more specific, it should have the ability to:
Fax at a predetermined time.
Fax a number of people at once.
Edit incoming faxes
Include digital signatures
Naturally, automated systems can fail, so read reviews to learn what users think of the business's technical prowess and customer service.
A Recommended Online Fax Service
Fax is a great option if you're seeking an affordable and simple internet fax service. It offers cost-effective and scalable plans, assured data protection, HIPAA compliance, and user-focused features—everything you could possibly want in a fax service provider.
Our app connections make it simple to send and receive faxes from your preferred apps. Your crucial documents are constantly secure and available. Our top-notch customer support team is available to assist you if there is ever an issue or concern.
References: