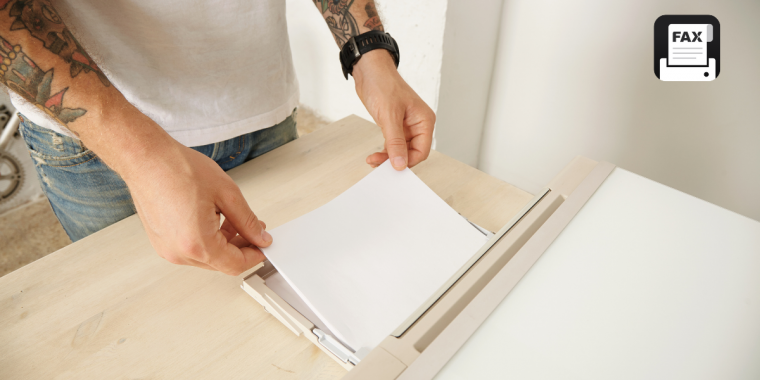 What Exactly is Fax? Fax, sometimes called telecopying or telefax, is the telephonic transmission of scanned printed material (both text and images), normally to a telephone number connected to a printer or other output devices. The original document is scanned with a fax machine, which processes the contents as a single fixed graphic image, converting it into a bitmap, and then transmitting it through the telephone system in the form of audio-frequency tones. The receiving fax machine interprets the tones and reconstructs the image, printing a paper copy.
To send and receive a fax from a traditional fax machine, the followings should be available:
A fax machine
A fax number
What is a Fax Machine?
A fax machine is a device that sends and receives printed pages or images over telephone lines by digitizing the material with an internal optical scanner and transmitting the information as electronic signals.
Fax machines are used to transmit documents between locations. For the majority of the time, these are business documents. However, there is still some personal use of fax transmission, especially with the generations that grew up with them.
Today's fax machine is less frequently a stand-alone machine and more often part of a multifunction unit that also has printing, scanning, and copying features.
What is a Fax Number?
A fax number is a phone number that can be used to contact a fax machine. It looks exactly like a regular phone number.
Fax machines communicate over the phone network to send and receive information. They use audible tones to send and receive information
Many offices have both a fax number and a phone number. Although fax operates over a phone line, it is a different phone number as fax services can interfere with services such as voicemail.
Why Does Fax Still Exist? Why Do You Need Online Fax?
First, fax is always needed and never outdated. Believe it or not, faxing is still a vital communication method used in many businesses today. And technology offers a better solution that makes online faxing possible.
Covid-19 forced us to work at home. But you still have to deal with business stuff that should be done in your office so that your distance won't cause a broken link to the whole teamwork. And here, online fax helps a lot. It can turn your smartphone into a pocket fax machine and help create a paperless office at home.
What's more, one of the major reasons why the benefits of Internet fax outweigh traditional fax is accessibility. Online fax allows you to send and receive faxes from virtually anywhere with an Internet connection and a mobile device. Most online fax providers offer mobile apps that allow faxers to receive, download, sign, and re-send important documents. It is more convenient to quickly send and receive faxes, which increases productivity and efficiency.
Last but not least, online faxing is cost-saving. Think of all the money you can save on paper, ink, toner, and maintenance. It can be hundreds and even thousands of dollars a year to operate, depending on usage.
How to Fax from Smartphone
Step1: Download and install Fax on your smartphone or tablet.
Download the Fax app from App Store or Google Play on your smartphone or tablet and successfully install it.
Step2: Fill in the recipient's number or directly choose from contacts.
Step3: Add a cover page to tell the recipient where the fax comes from.
The cover page includes the recipient's name, the sender's name, email or phone number, and some messages indicating the application of the file you fax.
Step4:Scan or attach files to fax and send.
Scan your image or documents using the camera on the smartphone or tablet. You can also select files from your photo library, other apps, or Cloud service.
Step5: Send your fax.
Last, with all the information well prepared, tap the "Send" button to finish your fax from your phone.