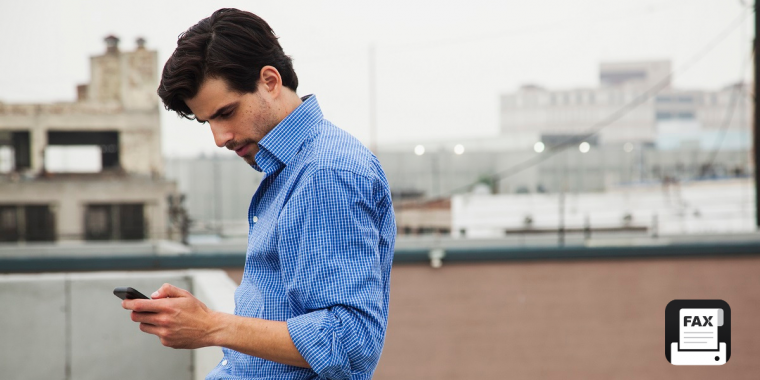 Can you fax without a phone line? Of course! A phone line is required while faxing from a fax machine but it is not necessary for an online fax app.
Without a phone line, can I still send and receive a fax?
You can still send and receive a fax on your computer or smartphone without a telephone line by taking advantage of an online fax service. Going to a printing store or public fax service provider is also an option, but it's not convenient and quite time-consuming.
Perhaps a fax machine is easy to get but a phone line isn't.
A fax machine is easy to possess since you only need to go to the local store or purchase one on online shopping platforms.
However, getting a phone line is not that easy as finding a fax machine. You may have to call the phone company and have your additional line installed. A fax plan should be purchased from a telecommunication carrier. You will be charged for having a second line and also for the fax calls made.
Don't worry. You can still send and receive a fax without a phone line.
In general, online fax is the best choice when you need to fax without a phone line. With an online fax app installed on your smartphone or tablet, you can virtually send and receive faxes at any time and place. Your phone or tablet can be turned into a fax machine in your pocket effortlessly. But a fax machine can never be carried all the time. It is also impossible to bring a big object on your business trip or vacation.
Compared with fax machines, online fax does have more advantages. There is no need of buying equipment, a dedicated phone number, paper, and ink toners. Your efficiency can be dramatically improved since all the procedures are completed on your phone with a few clicks. It is both secure and environmentally friendly.
Online fax is more than file sharing because it also integrates a lot of powerful and functional features. For example, digital signatures, scheduled delivery and fax archive can all take your productivity to a whole new level.
How to Fax without a Phone Line
Without a phone line, you can still send and receive faxes from a smartphone, a computer or a printer. Here we mainly introduce the method of faxing from online fax apps.
How to send a fax without a phone line
Step1: Download and install the FAX app on your smartphone or tablet. Open the app and create your own account.
Step2: To send a fax, you need to fill in the recipient's number or directly choose from contacts.
Step3: Add a cover page to tell the recipient where the fax comes from and what it is mainly concerned about.
Step4: Scan or attach files and edit them if necessary.
Step5: Tap the "Send" button to finish your fax from your phone.
How to receive a fax without a phone line
A fax can be received from an online fax app on your mobile phone where a local or toll-free number can be obtained for free that plays as a fax number. You will receive a push notification as soon as there is new fax in your inbox and you can check the received documents inside the app.