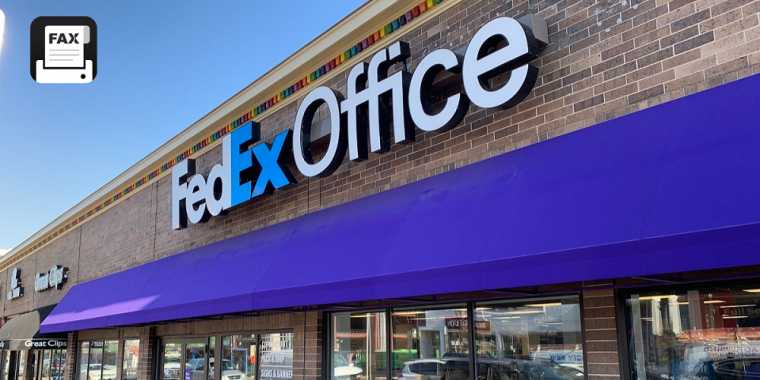 Many people will reach out to the faxing service at the FedEx Office stores when a fax machine isn't available nearby. If you go to the FedEx Office for the first time and feel confused about the specific fax process, this article may help you.
Can You Fax at FedEx Office?
Absolutely yes!
Thanks to the self-service fax machine at the FedEx Office, you are supposed to send or receive faxes with ease. Not only are letter- and legal-size documents supported, but you are also capable of adding a fax cover sheet at no cost.
For individuals who need to send or receive fax documents but do not have access to a fax machine, faxing at the FedEx store is a viable approach. Local, national, and international fax files can all be sent by the self-service fax machine, but at different prices.
| | | |
| --- | --- | --- |
| | First Page | Each Additional Page |
| Locally | $1.89 | $1.59 |
| Nationally | $2.49 | $2.19 |
| Internationally | $5.99 | $3.99 |
Steps to Fax from FedEx Office
Go to the FedEx Office website and find the store nearest to you.
Take a trip to the store and indicate your needs.
You can either directly use the self-service machine or have an associate help you.
Wait for the connection to be established and your documents to be scanned on the fax machine.
Dial the recipient's fax number and press the "Send" button.
You can wait for a confirmation page if your fax document is successfully sent.
Remember to pay a nominal fee per page for the FedEx fax service.
How to Find the Nearest FedEx Office to Fax?
Similar to the procedures at the UPS Store, you get two choices for finding the nearest FedEx Office to fax.
Firstly, you can directly search on the FedEx website. After locating your position, several stores will be listed based on the distance from you. You can acquire information about a contact, store hours, last pickup time, and in-store services by clicking on the name of the store. For more, tap the "Store Details" button to open the detail page where you can learn about the additional services and store reviews left by customers. By the way, making an online print order is also possible.
Secondly, Google Map is also capable of searching for the nearest FedEx Office for you. In addition to the basic address and contact information, you can even see the evaluations and photos of the specific store on Google Maps.
Apart from Fax, What Else Can You Do at FedEx Office?
FedEx Office doesn't just provide fax service, but its business scope covers many aspects. According to the introduction of in-store services on its website, FedEx Office also delivers shipping and packing services, copy and print services, passport photo renewal, and even computer access.
Its printed products such as greeting cards, indoor banners, and flyers keep your business running in a great way. Especially when face-to-face communication is limited, printed products are an ideal way to convey critical information. Meanwhile, its print, pack, and ship services also provide convenience to your personal life.
Bottom Line
Thanks to the self-service fax machine at the FedEx store, you are supposed to send or receive faxes with ease.
Find the FedEx Office store closest to you, everything will be quite simple afterward. The steps to faxing from the FedEx Office are straightforward and easy.
You can either search on the FedEx website or Google Maps to look for the nearest FedEx store to fax documents.