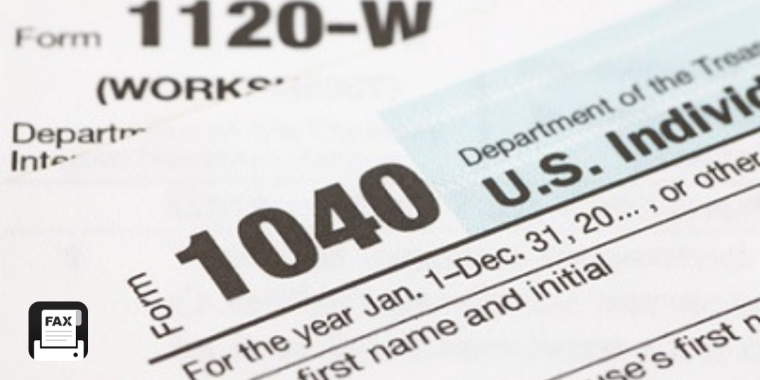 Form 1040 is used by U.S. taxpayers to file an annual income tax return. There are generally three options for filing: e-file, email, and fax. The form must be filed by April 18, 2023. If filing after this date, you may have to pay interest and penalties.
Form 1040 has several schedules that you may need to complete and attach to your form depending on your situation. For example, you may need to complete Schedule A (Form 1040) if you itemize your deductions, or Schedule C (Form 1040) if you are self-employed.
Multiple Ways to Fax 1040 to the IRS
Although IRS guidelines promote electronic filing, if you want to submit your forms via fax, you can:
Fax via a personal fax machine
A personal fax machine sounds impossible. After all, no one would like to buy a fax machine for themselves. On one hand, it's unnecessary while on the other hand, it costs a lot of money to buy and space to place it. However, it's still a method to fax via a personal fax machine and the following steps should be learned about if you need.
Step 1. Prepare your paper form 1040. The digital version can be downloaded from irs.gov and it should be printed out before faxing via a fax machine.
Step 2. Step up your fax machine.
Step 3. Put the form into the feeder in order.
Step 4. Pick up the receiver on the fax machine and enter the right fax number of the recipient.
Step 5. Wait for the confirmation signal from the other end of the line.
Step 6. Send the fax and check the confirmation.
Fax via a public fax machine
Because the operation steps are similar to those when a personal fax machine is used, it's unnecessary to repeat them. The only difference might be that the staff working in the stores providing public fax machines will help you to finish up faxing. Moreover, you should keep in mind that do remember to get your paper form back once the faxing is over. Your privacy should never be compromised.
Fax via online fax services
If you neither can afford a personal fax machine nor find a public fax machine nearby, online fax is the optimal solution. It's never too late for you to know about online fax. The simple steps below to send a fax via an online fax service will surely surprise you.
Step 1. Download Dingtone Fax app on your devices (phone, tablets, or computers).
Step 2. Create an account and buy a fax plan based on your needs like fax pages and frequency. Each fax plan generally covers a local or international fax number that can be used as your own fax number.
Step 3. Fill the Form 1040 in advance and save it in your device.
Step 4. Open Fax app and enter the right fax number of the recipient.
Step 5. Select a fax cover sheet and add it to your fax.
Step 6. Select the form stored on your device and upload it.
Step 7. Preview before you send it out.
Step 8. Track the fax updates in real time.
Online Fax: Fast and Easy Way to Fax 1040 to the IRS
After learning the difference between traditional fax and online fax, you may find that the latter has great advantages in many aspects.
Simpler operation: Compared to the complex preparation and maintenance of the machine, online faxing is much easier to operate. Network the device, upload the document, and click the send button. The faxing is basically done.
Lower cost: The high cost of fax machines, maintenance, and materials is no longer a problem. A reasonably priced fax plan can substantially help you solve the issues caused by large fax documents and long distances.
Higher flexibility: You can send and receive fax at any time and from any location. Online fax service allows your electronic device to become a pocket-sized fax machine and gives you access to fax functions without time constraints.
More functions: Online fax on your mobile device is never a scale-down version of a traditional fax machine. More features are covered like fax cover sheet templates, signature adding, status tracking, etc.
Bottom Line
Taxpayers can complete Tax form 1040 and send it to IRS via e-file, mail or fax.
Fax is a good remote work aid under the epidemic.
Online fax service is fast and easy.