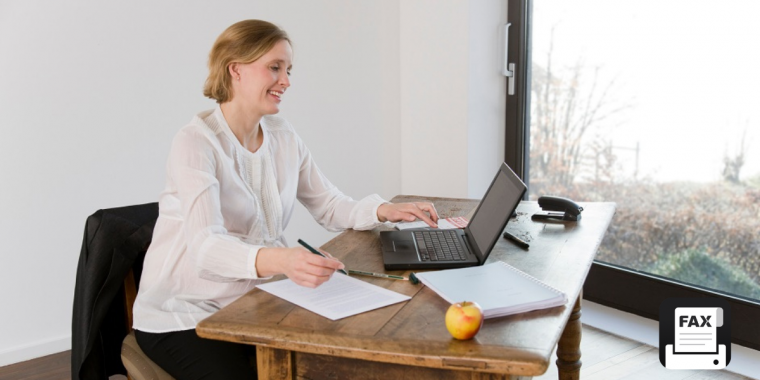 Despite the advancements brought about by new communication technologies, fax machines are still popular with businesses and industries such as government, healthcare, finance, and manufacturing. Every year, businesses send 17 billion fax documents using the 43 million analog fax machines in operation around the world.
However, traditional faxing is also responsible for the high rate of corporate data breaches. Hackers only need to use the fax machine's number to break into the network, exploit the loopholes in the ITU T.30 fax protocol, and then take over the fax machine remotely. Switching to Internet faxing using Internet Protocol (IP) will minimize data breaches and allow companies to save on costs associated with cyberattacks that can negatively impact their reputation.
With eFax, users can send and receive faxes through a variety of channels, including email, secure online portals, mobile devices and desktop applications. Faxes can be signed, edited, and organized electronically, saving paper, ink, and other costs associated with analog fax machines.
What is eFax?
eFax is a service provided by eFax, not Hewlett-Packard, that allows you to send and receive faxes using the Internet instead of a phone line. eFax is easy to use, but not like a typical phone-based fax machine. You don't need a phone line to use it, so you don't have to worry about a busy signal, and you can place the printer where you want it, not where the phone jack is! The fax number you provide is usually not a local number and may even be located in a different country. With this service, you will receive 20 incoming and 20 outgoing fax pages for free each month. Your page count will reset at midnight Pacific Time on the first day of each month.
How does eFax Work?
eFax uses the printer's Internet connection to send and receive faxes. When you send a fax, it is sent over the Internet to an eFax server, which then sends your fax over a standard telephone line to the recipient's fax machine. Your faxes are received in a similar fashion but in reverse order. The sender sends the fax over the phone line to eFax, which then uses HP's ePrint service to send the fax to your printer.
How Much Does eFax Cost?
30-day free trial, credit card required.
Plus: £11/month or £110/year – send 200 pages and receive 200 pages.
Pro: £16/month or £160/year – send 300 pages and receive 300 pages.
Super Pro: £25/month or £250/year – send 500 pages and receive 500 pages.
Is eFax Safe and Legit?
Yes, eFax is safe to use, especially compared to regular fax machines. Electronic fax documents are not placed on the fax machine for anyone to see but go to your personal inbox. eFax also offers enhanced security encryption, sending emails with a URL that allows you to log in using a TLS connection.
With eFax, all your faxes stay private in your personal email inbox. With nearly 100% uptime, the eFax server ensures secure, encrypted delivery of all your important faxes. For added protection, eFax Enhanced Security encryption technology provides maximum security for all your important and confidential faxes. After activating enhanced security, you will no longer receive faxes directly in your email inbox.
Is eFax HIPPA Compliant?
Yes, eFax has confirmed that it is HIPAA compliant if the user has an Enterprise eFax Enterprise Solution and a signed Business Associate Agreement (BAA). eFax is an electronic fax solution that uses advanced security protocols to ensure that ePHI is secure during transmission and storage. eFax is known as one of the most secure online fax providers. eFax uses a unique user ID and 256-bit SSL encryption to ensure secure document transfer and protect ePHI from unauthorized access. eFax also offers Transport Layer Security (TLS) encryption protocols, administrative privileges to limit access to ePHI, and multiple levels of audit controls, including secure and automated fax archiving. Fax transmissions are stored in the eFax cloud and kept securely on Tier III secure servers.
Best Alternative to eFax: Dingtone Fax
Dingtone Fax is the best alternative to eFax because it is safe, convenient, quick, and not expensive :
Send and receive faxes anytime, anywhere
No need for a fax machine with paper, toner, and dedicated phone lines. Compatible with multiple formats in documents such as confirmation, authorization, retirement, confirmation, etc.
Fax important documents securely and quickly
Important documents should be faxed from personal fax machines, but are not always available. Fax turns your mobile phone into a personal fax machine to protect your important or sensitive documents such as invoices, contracts, etc. during faxing.
Notify you by fax as soon as possible
Never miss an important fax notification. Fax allows you to receive faxes without delay. All past faxes are memorable and traceable
Unlimited faxing for all budgets
One fax account, unlimited faxes. Dedicated fax phone numbers are covered at no additional cost. One purchase for all your faxing needs.
Choose from a variety of fax cover page templates
No download is required, and Fax provides stacks of fax cover sheet templates to suit specific situations. All you need to do is choose a template and fill it out.
With the Dingtone Fax App, you can send faxes from your smartphone. Plus, you can send faxes from other third-party applications like Gmail, Outlook, Word, PDF editors, and more. You can also upload documents, pdfs, photos, receipts, etc.