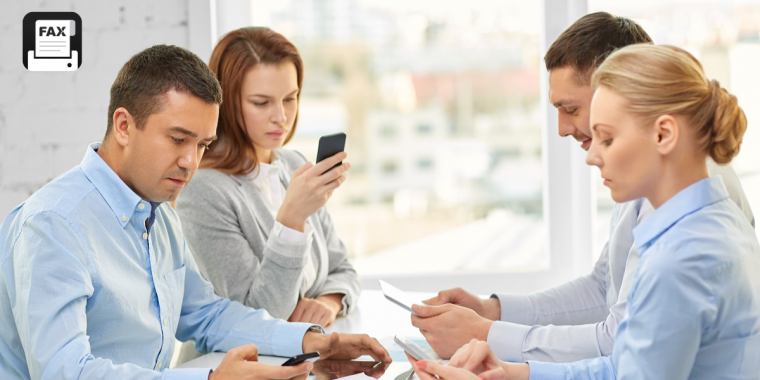 Facsimile is still used in many scenarios and growing in popularity due to its security, convenience and decades of habitual use. As one of the most important types of documents in the work environment, forms often need to be transmitted to each other with precision and accuracy. And the online fax form is well-positioned to help many office workers solve the issue of remote communication.
Fax Forms Online: Necessity and Importance
Online fax forms are the act of being able to fill out forms (especially some important and private forms) and send faxes through the Internet. It has gained much popularity due to legal and social reluctance towards email security and electronic signatures for emails. If forms can be filled out and faxed online, it can greatly improve work and issue solving efficiency whilst ensuring the authenticity of exchange information. Common scenarios for its application are, for example, submitting government-required documents (faxing forms to the IRS for tax returns), receiving diagnostic records from private doctors (pharmacists can accept faxed prescriptions, but not simply photographed or scanned ones sent via email).
In addition, another core factor in keeping the online fax format is the unwillingness of users to change. Fax technology already meets the needs of many small businesses, and there is little reason for them to spend the money and efforts to try a new document exchange technology. New technology means new expenses and additional risks. Every company that prefers to use fax encourages all of its partners and suppliers to continue using fax to exchange documents such as contracts, quota, forms, to avoid disrupting the existing ordering process.
Fax Forms Online: A Step-by-Step Guide
Whether it is a paper form or an electronic form, an online fax service has a corresponding solution. Here is a complete guide for you to fax forms online:
How to Fax Printed Forms Online
Step1: Prepare the printed paper (note whether signature is required). Printed paperwork can be either given out to you or printed from printers by you.
Step2: Download and install an online fax app on your device.
Step3: Register on the app and purchase a fax plan covering unlimited fax pages and your own fax number, local or international.
Step4: Enter the recipient's fax number in the blank or choose from the contacts.
Step5: Edit the cover page as you wish and it may include the basic information about the fax like name, topic, etc.
Step6: Scan the completed paper forms with the webcam on your device.
Step7: Preview before sending it as a fax.
How to Fax Digital Forms Online
Step1: Download and install an online fax app on your device.
Step2: Register and choose a fax plan on the app based on your demands.
Step3: Enter the recipient's fax number or directly select a number from the contacts the app is allowed to have access to on your device.
Step4: Edit the cover page indicating the fundamental information about the fax document.
Step5: Attach the e-forms directly stored in the cloud or from a third-party source or scan a file with the webcam on your device.
Step6: Add a signature if you need.
Step7: Preview before clicking the "Send" button to complete faxing.
Bottom Line
Fax is still employed in many situations because of its advantages and legal validity.
Online fax forms are a practical and time-saving way to work remotely while ensuring the authenticity of distant information.
Online fax forms are easy to operate and are not limited by formats.