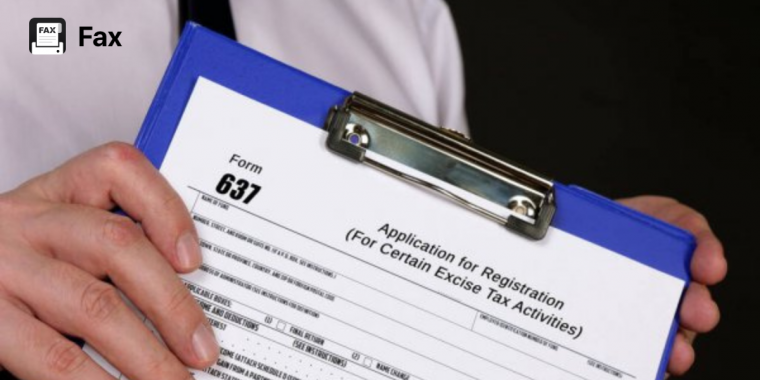 According to the internal revenue code (IRC) and regulations, each person who engages in certain activities (subject to federal consumption tax) or seeks consumption tax benefits must register with the Internal Revenue Service (IRS) to engage in these activities. Form 637 is what to be used.
What is Form 637 and What is It Used for?
You can use Form 637 to apply for registration for Certain Excise Tax activities. A person can register for more than one activity on Form 637, if applicable. To receive a registration, a person must meet certain standards, referred to as "registration tests", and must comply with the terms and conditions of registration to retain a registration. Each business unit that has, or is required to have, a separate employer identification number must file a separate Form 637. If the application is denied, the IRS will provide written notification with the reason for the denial.
How to Send Form 637 to IRS?
There are two ways to send Form 637; one is through fax and the other is through the mail. The guides for each sending method will be introduced below.
Fax Form 637 to IRS
The Fax app allows its users to send and receive a fax at any time and place.
Step 1. Download and install the FAX app on your device, like smartphone, or tablet and purchase a fax plan based on your needs.
Step 2. Fill in Form 637 and scan it via the webcam on your device or directly attach your Form 637 from a third-party platform.
Step 3. Select a cover sheet and sign, edit, preview the fax document to be sent, The fax number for Form 637 is 855-887-7735. Click the button "Send" to complete faxing.
Mail Form 637 to IRS
The traditional mail method is so familiar to everyone although it is old school.
Step 1. Download, print Form 637, and fill in Form 637 correctly and eligible.
Step 2. Mail the form to IRS based on the addresses provided below.
Department of the Treasury
Internal Revenue Service Center
Excise Operations Unit – Form 637 Mail Stop 5701G
Cincinnati, OH 45999
Bottom Line
You can use Form 637 to apply for registration for excise tax activities.
The online fax service is a far more practical solution for people with fax needs.
---
Related Forms to Fax to IRS