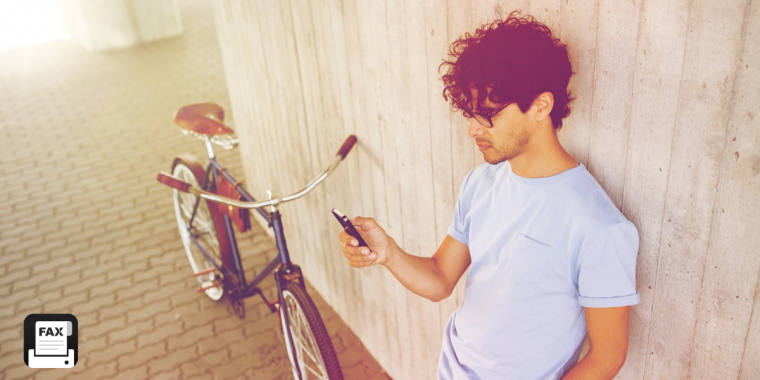 While you are on a vacation, your business partners are possibly not. As you go on a business trip, your orders still need to be closed with your signature. If the above situations fit you, you must understand the significance to fax anywhere and anytime.
Need fax but no fax machine is available, what should I do?
Faxes are usually needed by governmental or legal organizations or companies due to their security and validity. If your boss called you to send an important signed file when you were out for a business trip or unfortunately on your vacation, what would you do without a fax machine that nears your side?
After all, you can never carry a fax machine all the way around and it's so unrealistic to have a personal fax machine.
To tell you the truth, you can, however.
Where to Fax Near Me
Where can I find a fax service near me that is convenient, secure, reliable, and cheap? There are some places you can find near you to fax something:
Your Local Bank or Credit Union
Many – if not most – banks and credit unions have fax services available, and those services are often free to customers. If you're not a member of the local bank offering fax services, ask if they'll fax anyway for free or for a small fee.
Some Printing and Shipping Stores
Shipping stores are always your first choice to solve your problem of faxing. Most shipping stores also provide a faxing service. You can go to shipping stores that offer fax services, like FedEx Kinkos, UPS or Staples. Prices may vary based on different shops and you can choose the best that needs your demand.
Your Local Library
Not all local library locations provide fax services, but you may find that yours does. Call or stop in to see if they offer fax services and what their charge is to do so.
Various Hotel Chains
Just as many hotels offer free wi-fi, almost all larger chain hotel companies offer fax services to guests. Now, the hotel might not offer fax services for those who aren't staying as guests at the hotel, but it certainly wouldn't hurt to ask.
So what if these places are all closed?
Turn to online Fax Software and Fax Apps. With technology such as it is these days, you can also use online fax software or fax apps right from your PC, smartphone, tablets, and more. This is more convenient than the ways I mentioned before. Those are not good choices if you are in an emergency. But the online fax makes this process easier.
Here I introduce you to the online fax service, Dingtone FAX, which allows you to send and receive faxes from anywhere, anytime with iPhone, iPad or Android devices.
There's no limit for fax pages under one plan. Lifetime storage. All past faxes are memorable. And it provides a local or toll-free fax number to meet business demands. Fax can be sent to 100+ countries worldwide. Functions like file editing, page combining, cover page, and signature adding are all included in this app. It supports all popular formats and third parties. Sending status is trackable anytime and anywhere.
With Dingtone FAX, you can fax quickly and efficiently at any place and time.
FedEx
UPS
Staples
Office Depot
Locally
(First Page)
$1.89
$1
$1.79
$1.49
Locally
(Each Additional Page)
$1.59
$1
$1.59
$1.29
Nationally
(First Page)
$2.49
$2
$2.39
$1.99
Nationally
(Each Additional Page)
$2.19
$1
$2.19
$1.79
Internationally
(First Page)
$5.99
$3
$5.99
$7.99
Internationally
(Each Additional Page)
$3.99
$3
$3.99
$3.99
Hours of Operation
Business hours. Rarely 24/7
Business hours. Rarely 24/7
Business hours. Rarely 24/7
Business hours. Rarely 24/7
Where to Fax
In store only
In store only
In store only
In store only
Bottom Line
It's necessary to be able to send and receive fax nearby, especially when you go on a business trip or a vacation.
Some places can be picked up to fax but they have limitations like close time.
Online fax enables you to send and receive a fax at any time and place, allowing you to close your orders to make money at the first moment.