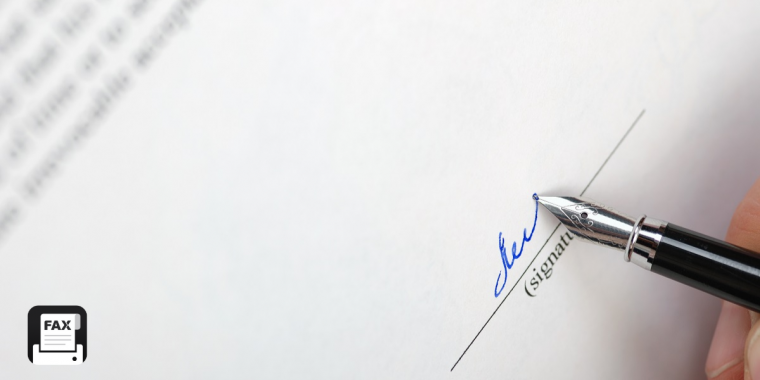 With the rapid development of online fax technology, a series of features beyond the basic sending and receiving functions have been developed. Some excellent online fax platforms, such as Fax app, can provide you with many amazing services. E-signature is among them.
How the Signature in Fax Helps Your Business
There will always be times when you need urgent signature faxes. When you are on the go, or when you don't have the print documents or fax machines at hand, an online fax platform can be a great help to your business. With an app like Dingtone Fax, you can add your electronic signature immediately.
In addition to this, if you are a fax-dependent businessman, electronic signatures make you more responsive to your clients so as to move forward with project running or dealing closing. Signing and returning documents faster can boost relationships between customers and your business.
Finally, you can also save time by using electronic signatures. Sign your documents without having to find a scanner, printer, or pen and paper. You can even sign PDF documents. This will greatly improve your office productivity.
How to Sign a Document and Fax Out Anytime and Anywhere
For electronic faxes, there are two convenient signing options: swipe your finger across the screen of your mobile device to sign faxes online, or just drag and drop a "saved" signature onto your fax document.
If you're the first user of Dingtone Fax app, you can finish signing your document by swiping your finger. If you've used it as a pro, you can drag and drop a saved signature onto your fax document. That'll be easier.
Online Fax: Enabling You to Sign and Fax in No Time
Compared to traditional faxing methods, virtual faxing enables you to sign and fax in a short time. A networked electronic device can be turned into your pocket-sized fax machine. It has distinct advantages in many ways. See below:
Low cost
Online faxing enables you to stop worrying about the cost of fax machines, maintenance, ink, paper, landline phone lines, etc. By choosing a reasonable fax plan, you are free to transmit documents regardless of size and distance.
Safety and security
Not everyone can and need to have a fax machine of their own. Some people can't afford the high cost, and some people don't use faxes very often. And there's always the danger of compromising your privacy by using a public fax machine. With your own mobile fax, you can encrypt your documents or upload them to the cloud. With the end-to-end technology supported, the protection of signed documents is also enhanced.
High flexibility
You can send and receive faxes at any time and from any location. Even if you don't have a fax machine around, or you are on the road, the online fax service turns your electronic device into a pocket-sized fax machine, allowing you to sign and fax documents without time constraints.
Full features
Apart from supporting fast electronic signatures, online fax software also provides features such as contact, e-files, cloud storage, cover sheet, fax updates tracking, notification, and more.
Bottom Line
Signing your faxes online anytime and anywhere is achievable with an online fax app used.
The electronic signature feature provided by online fax services can greatly help with your business.
You can quickly sign and fax documents using online faxing.