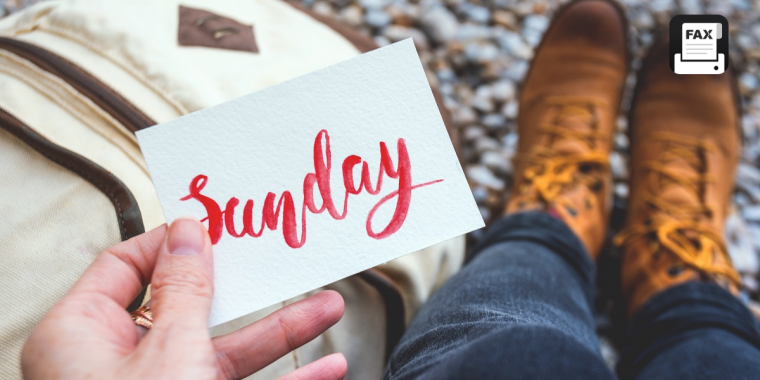 Still looking for a fax machine on Sunday? Most business hours are Monday to Friday. So where can you send a fax when the office is closed? Many offices would leave their fax machines on outside their business hours. Nevertheless, there is a better option for you, online faxing.
Everyone Needs Fax but Not Everyone Knows.
In the age of email, it seems like fax is a thing of history. But indeed, faxing is growing as well. On one hand, fax machines become multiply-functional together with other features like copying and printing. On the other hand, faxing works based on the Internet apart from a telephone line alone.
In many cases, faxing is regarded to be more secure than email and it provides a paper trail. If you need to refinance your house, apply EIN for your company, or sign a "wet ink" name on a contract, you may know why. Fax is far more important than you think. Unfortunately, most people don't know that until they really need fax, sometimes even in an emergency.
Where to Send a Fax on Sunday?
After business hours, you can still find a public fax machine at UPS, post office, FedEx, Staples, etc. But sometimes, you may not be able to find these places around. Even if you do, you may be daunted by the high expense of your faxing and the possible risks of file exposure. At such times, an online fax service can be very helpful.
Related Post: Public Fax Services: Find a Places to Fax Near Me
Send a Fax from a Public Fax Machine
The following is a step-by-step guide for you to fax from a public fax machine:
Step 1. Go to any store mentioned above that provides fax services like UPS, post office, FedEx, or Staples,.
Step 2. Pass your paper document to the staff working at the stores or you can start to use the fax service all by yourself. No matter the staff or yourself, the same procedure is used as below.
Step 3. Dial the recipient's fax number, local, toll-free or international. Different costs may be generated based on different fax numbers.
Step 4. Place the paper document at the feeder plate on the fax machine. Send the fax and check the confirmation.
Step 5. Remove your documents, especially in a public place.
Send a Fax from an Online Fax App
Online faxing is becoming more widespread for its numerous merits. The App like Fax makes it easier to send, receive and sign paperwork with an internet connection. Users don't have to spend time on set up, machine maintenance, toner, paper, or landline. Besides, it provides amazing features more than that. You can edit and add the cover sheet and track your fax instant updates. With the notification function, you won't miss any important fax from your clients.
The following steps should be conformed to as you send a fax from an online fax app:
Step 1. Download and install Fax App on your smartphone or tablet, iOS or Android.
Step 2. Create an account on the app and purchase a fax plan that covers a fax number dedicated for you. It plays a role as a landline dedicated for your faxing.
Step 3. Open the app and fill the fax number of your recipient after starting a new fax demand.
Step 4. Add a cover sheet that can be selected among piles of cover sheet templates provided by Fax based on your demand.
Step 5. Scan your paper document with the webcam on your smartphone or tablet or upload or attach your electronic document stored in third-party platforms like Google Drive or Google Docs.
Step 6. Edit your document like adding a signature.
Step 7. Preview and send to a fax.
Online Fax App – the Best Way to Send a Fax on Sunday
Instead of struggling to find a fax machine on Sundays, why not try online fax services? It has stronger advantages in many ways than a fax machine.
Lower cost
No cost of fax machine maintenance or materials is needed when online fax is used. Moreover, you don't need to pay for the landline dedicated to your fax. The cost of the fax services provided by stores is determined by the page count, which means the more pages you want to fax, the higher cost it'll take. When an online fax app is used, however, a fax plan covers unlimited fax pages and there's no need to worry about the cost if faxing needs to be used all the time.
Higher flexibility
You can fax anywhere and anytime with a mobile device on which an online fax app is installed and used. No one can carry a fax machine everywhere, but anyone can carry a smartphone everywhere. If an online fax app is installed on your smartphone, your smartphone will be turned into a pocket fax machine allowing you to send and receive a fax at any time and place.
More secure
As a public fax machine is used, all the information on your documents will be exposed to the public. However, the documents that need to be faxed are always confidential or related to important issues. Faxing from your personal device is beneficial to protect your privacy.
Bottom Line
Faxing after business hours is not a problem as an online fax app is used on your device.
When you need fax on a Sunday, you can try to find a public fax machine or send a fax from your smartphone.
Online fax services can help you fax work from anywhere and anytime.