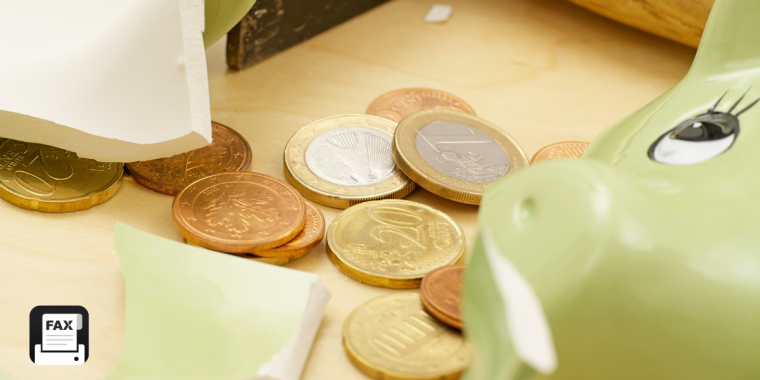 Countless emails flash back and forth, but millions of faxes also travel around the world every day. Many individuals and governments continue to use faxing because of its unique advantages, such as confirmation pages (proof of message receipt), legal acceptance, and international popularity. However, the traditional faxing method, that is, faxing through bulky fax machines and high fax costs, has restricted many people from faxing, especially under the epidemic. The development of online faxing has considerably helped millions of people solve this nuisance. How exactly does it achieve that? Let's take a look down.
What is Online Fax and How does it Work?
Unlike traditional fax machines that work, online faxing utilizes Fax over Internet Protocol (FOIP) technology. All you need is an Internet-connected device, such as a phone, tablet or computer, and a reasonable fax application to fax anywhere, anytime.
An online fax platform, such as Fax app, will provide you with a fax number (local, national or international) and use end-to-end encryption to ensure the secure transmission of your documents. Simply put, with the support of online fax services, your electronic device can become a secure pocket-sized fax machine that allows you to send and receive faxes anywhere, anytime.
Online Fax vs. Offline Fax: How Different are They
By using digital technology, online fax can offer a range of solutions that fax machines cannot provide. It also owns additional benefits over traditional hardware, such as faster communication, less downtime, and a more cost-effective solution for your business. Here's more about the differences between online and offline faxing:
| | Offline Fax | Online Fax |
| --- | --- | --- |
| Equipment | Fax machine (individual or public) | Digital devices (phones, tablets, computers) |
| Other costs | Ink (toner), paper, maintenance, landline | A fax plan (weekly, monthly or yearly) |
| Fax number | Dedicated landline | Included in a fax plan |
| Other features | Scan, copy and print | E-signature, contract, track, notification, cover sheet, scan, preview, cloud storage… |
| Flexibility | Immobile and large footprint | Accessible anywhere with an internet connection |
| Document management | Print and store all required documents in physical units such as filling cabinets | Save and archive received and sent documents on secure cloud servers for easy access |
| Risk | Exposure of private documents (especially when using a public fax machine) | Personal account theft |
| Security | Limited security options, leading to the potential for unauthorized third-party access. | Advanced end-to-end encryption technology, 24/7 live security monitoring, and access controls to files. |
| Time | At least 5 minutes from set up to successful faxing | Around one minute for a small file transmission |
| … | … | … |
Online Fax is Much Cheaper than Fax Machine, How Come?
Online fax is becoming the new alternative and trend. One of the most important reasons is that it is so much cheaper than fax machines. See below for more details.
Cut Hardware Cost (average around $300 saved)
There is no need for a fax machine. A basic stand-alone fax machine costs $50-$95, while stand-alone fax or an all-in-one fax-scanner-copier-printer costs $100-$500 or more; prices vary depending on printing type, modem speed, transmission speed, memory, resolution, sheet capacity (usually 25-100 pages) and other options. At the same time, the price of renting fax machines is not cheap. And without fax machines, maintenance costs are also saved.
There is no need for paper or ink. You don't need to prepare another device if you send faxes using your own cell phone, tablet or computer. Install Dingtone Fax app on your device and purchase a fax plan on your demand, then you can easily start your fax journey.
Cut Landline Cost (average around $40 per month saved)
A phone line dedicated to faxing is not a must anymore. The fax plan will provide you with a fax number. You can select where the number attributes, local, domestic or international and don't have to worry about the international number costing more because it is already included in your fax plan.
Unlimited Fax Pages
If you only need to use to fax occasionally, public fax machines will also charge you a lot of money. Generally, as the page count rises and the fax distance increases, the fees can be absurdly exorbitant. Online faxing, on the other hand, with an infinite quantity of fax pages, will be more cost-effective. For example, Dingtone Fax's weekly plan charges only $7.99 with no page or distance limits. This can take a lot of worry out of the equation when you need to send a huge number of documents to multiple parties.
Not Only Low Cost, but Excellent Features as Well
A good Internet fax service is not only low cost, but can also provide many features on top of the basic service:
Contacts – You can build up your own contact and make it easier in next fax.
E-files – You can save and archive received and sent documents on secure cloud servers for easy access.
Third parties – You can make file selections with some excellent cloud storage applications, such Google Docs, Dropbox.
Scan – You can easily scan the paperwork with your webcam on your digital devices.
Cover sheet – You can edit as you wish, including name, fax topic, contact information, etc. There are also many businesses, medical and IRS related cover sheet templates for you to use for free.
Signature – You can add an e-signature if you need.
Preview – You can preview everything before sending to make sure you are sending the right content.
Track – You can keep track of your fax updates in real time in your app.
Notification – Every time someone sends you a fax, you'll get a notification and won't miss any important fax. This is just as useful as the alert feature of any other software in your phone.
Bottom Line
Offline faxing is still in use, but indisputably it comes with a slew of inconveniences that have been magnified in light of the epidemic. Bulky machines and high costs have dissuaded many people.
Online fax is much cheaper and provides more services than offline fax.