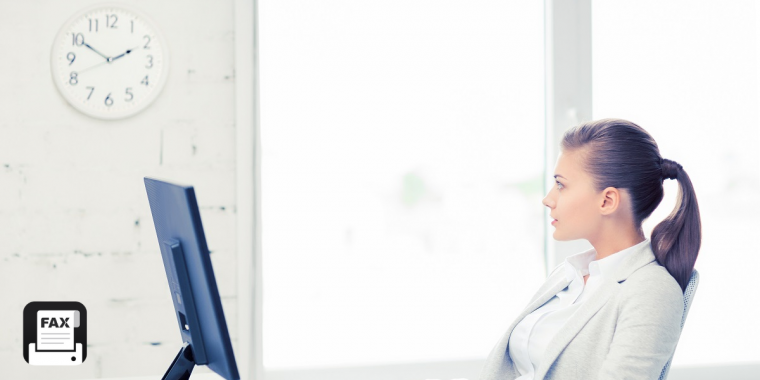 The time it takes to transmit fax is determined by multiple aspects. If you're to send a fax from a fax machine, it is related to the performance of the phone line for fax and the distance between fax sender and you. If you're to send a fax from an online fax app, the time will be much shorter because of the Internet in real-time.
How Long does it Take to Fax Something?
Based on recent research, it takes about 30 seconds to 1 minute to send a fax per page of a text with a fax machine used. If you fax documents with lots of graphics, or you have a slow internet speed, it may take 5 minutes or more to send a fax per page.
Factors Determining the Exact Time for Transmitting a Fax
The factors that influence the time for transmitting fax include document quality, connection speed, the performance of the phone line, the type of fax machine, and so on. Below are the two most significant elements related to the time of faxing.
Internet speed
If you pick up an online fax service, apart from the above two elements, internet performance should be taken into consideration because the online fax is sent and received via the internet and the internet performance directly determines the fax speed.
Internet speed or your connection speed determines how long your fax process takes if you are sending from an online fax app. The data network of your smartphone may be slow or the WiFi quality is not that good. Still, online faxing is much faster than fax from a fax machine.
Fax machine's transmission speed
There are many types of fax machines on the market and their transmission speed all vary. If you are sending your document from a fax machine, the performance of the phone line and the transmission speed of different fax machines matter most.
The speed can be dramatically increased when a high-quality fax machine is used because a branding fax machine usually leads to a high transmission speed (BAUD rate).
The BAUD rate of a fax machine can be set from 2400 to 28800 bps, or even higher. To reduce data loss and improve reliability, the BAUD rate is generally set at 9600bps. At 9600 bps, it generally takes 1 minute to fax a page. At 4800 bps, it generally takes 1 minute 45 seconds to fax a page. at 28800 bps, the time to fax a page can be reduced to 35 seconds.
The faxing speed is affected by both the BAUD rate of the sending fax machine or app and the receiving fax machine or app. The BAUD rate will adjust to the lower baud rate of the two fax lines.
The type of document being transmitted
The type of document being transmitted is also an important aspect you can't ignore. More narrowly, you need to consider the size and complexity of the file and whether graphs are included. If you want a faster transmission speed, it is a good idea to cut down the size of your fax file and remove unnecessary images.
Modified graphics can be sent slower and lousy phone connections will dramatically lower the speed of transmission. Pages with lots of white space can accelerate the speed of transmission. Images and graphics usually take a longer time to be sent in the fax.
How Long Does a Fax Take when a Fax Machine is Used
If you are considering faxing via a fax machine, you also can't get a single answer on how long it takes for the fax to get sent. The time needed depends on the type of fax machine, and it can range from 1 minute to 6 minutes. When the fax is transmitted between two different fax machines, the time needed is usually determined by the slower one.
Moreover, if the document contains nothing but text, it will be faster. Also, more white space on the file means faster transmission. The ones that include graphics will take longer. You have to think about phone lines as well—bad phone connections can affect the transmission speed drastically and make it slow.
How Long Does a Fax Take when an Online Fax App is Used
Online faxing is definitely a faster option compared to a fax machine. It is also quicker than other methods that require scanning and printing.
How long does it take? It is instant, so as fast as sending an email, for example. Online fax services come with numerous other benefits because they are secure, efficient, and easy to use.
You only need an internet connection and a good fax app that will provide you with a fax number. The best option for you to choose is Dingtone FAX. It has the simplest way of handling the entire process.
How to speed up fax?
Nowadays, customers are attracted to new technologies which will facilitate life and work. With online fax, users can have access to send a fax from a smartphone that is not available with traditional fax machines.
First of all, online fax is convenient and economical. With online fax, it is unnecessary to purchase new supplies or machines. There is no need for relevant fax materials, such as paper, inks, toners, or a fax device. You also do not need to install or purchase a dedicated fax phone line to use for online faxing, which usually costs a lot.
Secondly, online fax is a customized device. The traditional fax machine is for everyone in public. However, online fax can customize your own documents, such as file editing, page combining, cover page, and signature adding. Support all popular formats and third parties. You can have your own personal fax machine.
Thirdly, one of the most significant advantages of online fax is being portable, using the internet to send or receive faxes. Whenever there's access to the Internet or cellular data via your iPhone or any smartphone, online fax will smoothly work. Once you sign up for a given online provider, your mobile device or PC will be connected to the web to fax.
In summary, with online fax service, your iPhone can be used as a perfect pocket fax machine that can be carried anywhere you want which makes your location independent.