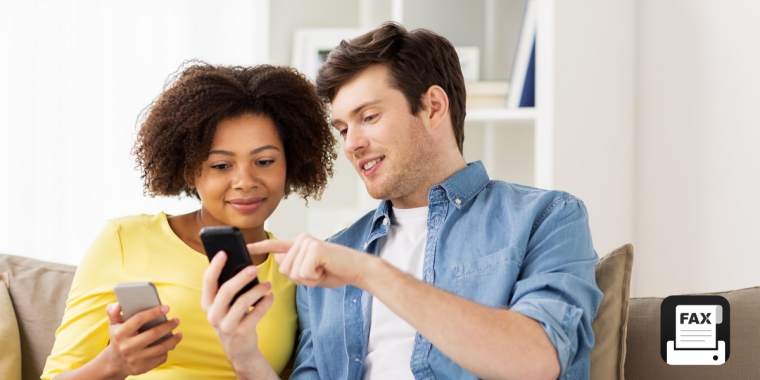 Faxing is still the most secure way to send and receive sensitive information and confidential documents. Many companies rely on the fax for the reason that emails are too exposed to information security and cyber threats. With the advent of the Internet, you can send a fax over the Internet anywhere and anytime. Read the following instructions about how to fax over the Internet and forget about replacing the toner in your fax machine!
Online Fax: From Fax Machines to Mobile Devices, From Landline to Internet
Online fax service has several advantages. On one hand, an online fax service is economical. Unlike expensive fax machines, online fax service is cost-effective because you don't need to pay for extra devices and tools contributing to faxes like paper, ink, toner, etc. On the other hand, online fax service is convenient and flexible. You can send a fax over the Internet anytime and anywhere without a landline.
How to Fax Over the Internet through Online Fax
With the increasing prevalence of the Internet, mobile devices, including smartphones and tablets, have come into a golden age of development. Online fax service can be widely applied to multiple mobile devices. In this article, we will take smartphones as an example to explain how to fax over the Internet through an online fax app.
How to Send a Fax over the Internet
You can read the following instructions to learn how to send a fax from iPhone over the Internet.
Step 1. Download and install Dingtone Fax on your iPhone.
Step 2. Fill in the fax number of the recipients, either local or international.
Step 3. Add a cover sheet to your fax file indicating the basic information about your fax.
Step 4. Scan your file with your webcam on iPhone or directly attach your file in the cloud or third-party file storage services like Google Doc to your fax.
Step 5. Follow the steps of edit and preview and you'll be able to fax your file out from your iPhone.
How to Receive a Fax over the Internet
A variety of sites can send you a fax by assigning you a virtual fax phone number. The faxed document reaches you via email, typically as a PDF or TIF image. Some services use a proprietary format for the document and provide free software for viewing it.
Benefits of Online Fax: Not Only Easiness, But Also …
There are multiple advantages of online fax.
Easy to Use: Fax Anytime and Anywhere
Online fax is flexible and convenient. You can send and receive faxes from any place and at any time. It is exceedingly practical for businesses operating from multiple sites and for those making the transition to remote working.
Low Budget: No Extra Cost
Online fax is cost-effective. You don't need to pay extra expenses, such as toner, fax machines, and a landline. You also don't need to worry about maintaining them, which may cost huge.
Secure for Confidential Documents
Online fax is secure for sensitive information and confidential documents. With an online fax service used, your faxes are transmitted securely over an encrypted internet connection on your personal smartphone.
Bottom Line
Online fax app allows users to send a fax over the Internet instead of the traditional landline on a fax machine that features many disadvantages.
Online fax app enables you to send and receive a fax document anywhere and anytime
Online fax app is easy to use, cost-effective and secure to use.