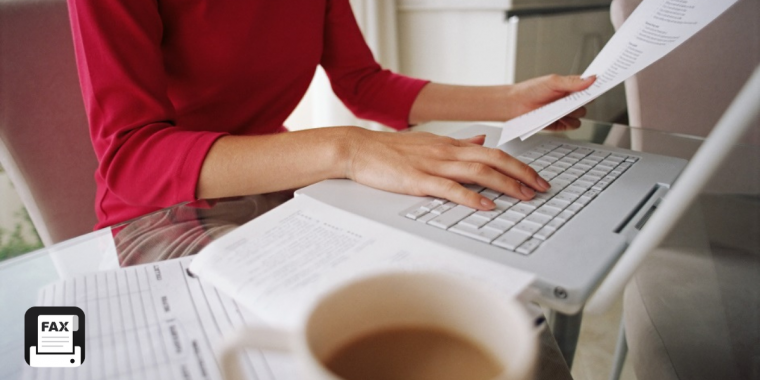 In fact, there are many countries in the world, such as Japan – a country that has done the best in terms of technology – that still believes that faxing is an important part of doing business. It remains the preferred file transfer method for many healthcare and financial institution transactions because it is considered more secure than email. This shows that fax technology is not obsolete and is actually booming as a system for transferring documents. How does faxing continue to work today? Like any technology that has flourished over the years, faxing does this by evolving and adapting to the use of technology in the current business environment. In the case of faxing, it is done via internet faxing from a computer.
What is RingCentral Fax?
RingCentral Fax is a communication company that provides a variety of products for small businesses and enterprise organizations. One of their product lines is an online fax service. Customers can choose from a range of fax plans based on the number of pages faxed per month. In addition to the monthly subscription, users will also be charged for additional pages beyond the plan's page limit. RingCentral provides businesses with a variety of communications products, from voice services to faxing. Customers can choose to fax as a separate service or as part of a package.
How does RingCentral Fax Work?
You can send faxes from your computer in several ways. Here are some of the most common methods:
1. Fax from your RingCentral account – Log in to your RingCentral account and click the FaxOut icon to send a fax.
2. Fax from the RingCentral app – You can also send a fax from the RingCentral app by clicking the new action button in the upper right corner of the app and selecting Fax.
3. Fax from Email – You can also use email connected to RingCentral Fax via the Email to Fax feature, just create a new email. You can then attach the document and send it to the 10-digit fax phone number followed by the domain "@rcfax.com".
4. Fax from Scanner – You can use an email-enabled scanner to get a hard copy of your document. Scan the document, set the menu to the email option, then enter the 10-digit fax phone number followed by the recipient's domain "@rcfax.com".
How Much Does RingCentral Fax Cost?
RingCentral Fax offers two pricing tiers. The Fax 1500 plan costs $22.99 per month and can send or receive up to 1,500 pages per month. We prefer services that offer fax pools, like RingCentral, to those that impose individual limits on the number of faxes you can send and receive. The per-page overage fee for this tier is 4.9 cents. Previously, Ring Central offered a more economical $14.99 per month plan that allowed you to send or receive up to 750 fax pages. Note that you may actually end up paying more than these rates for your fax number. The Fax+Phone+Video (office) plan costs $49.99 per person per month, but that plan includes business-friendly features that most people don't need (such as managing multiple users, VoIP, and team messaging). However, there are no restrictions on faxes sent or received within this range.
Is RingCentral Fax Safe and Legit?
Yes of course. Whether it's from the RingCentral app, your RingCentral online account, or from trusted email – it's protected by advanced encryption. This prevents data leakage and other forms of traffic interception for your fax transmissions. These security measures are enabled by:
Transport Security: RingCentral utilizes Transport Layer Security (TLS) and Secure Real-Time Transport Protocol (SRTP) encryption between endpoints. This means that data at rest (data in storage) and data in motion (data in transit) are encrypted. Encryption masks sensitive data, making it unreadable without the decryption key.
Infrastructure security: through firewalls, vulnerability scanning, intrusion detection, and user authentication.
Physical and Environmental Security: RingCentral's data centers are protected by electronic prevention systems, security personnel, and on-site engineering experts.
Proactive Fraud Mitigation: Enabled through detection and access control. Data access is monitored so that unauthorized access can be quickly detected.
SOC II Type 2: RingCentral is audited by a third party to ensure the effectiveness of its operational controls and ensure compliance with standards set by the American Institute of Certified Public Accountants (AICPA).
Is RingCentral Fax HIPAA Compliant?
Yes, RingCentral is HIPAA compliant. RingCentral can be used for HIPAA-compliant communications if the organization has implemented appropriate security measures, trained employees on how to use the platform, and signed a business associate agreement.
Best Alternative to RingCentral Fax: Dingtone Fax
Dingtone Fax is the best alternative to RingCentral Fax because it is safe, convenient, quick, and not expensive :
Send and receive faxes anytime, anywhere
No need for a fax machine with paper, toner, and dedicated phone lines. Compatible with multiple formats in documents such as confirmation, authorization, retirement, confirmation, etc.
Fax important documents securely and quickly
Important documents should be faxed from personal fax machines, but are not always available. Fax turns your mobile phone into a personal fax machine to protect your important or sensitive documents such as invoices, contracts, etc. during faxing.
Notify you by fax as soon as possible
Never miss an important fax notification. Fax allows you to receive faxes without delay. All past faxes are memorable and traceable
Unlimited faxing for all budgets
One fax account, unlimited faxes. Dedicated fax phone numbers are covered at no additional cost. One purchase for all your faxing needs.
Choose from a variety of fax cover page templates
No download is required, Fax provides stacks of fax cover sheet templates to suit specific situations. All you need to do is choose a template and fill it out.
With Dingtone Fax, you can easily send and receive faxes. Also, you can use an existing phone number or get a new one. If you're concerned about safety, don't worry! Dingtone Fax uses the latest encryption technology to keep your information safe. The service also has apps for Android and iOS devices, so you can send faxes on the go. They even offer a free trial period so you can try out anything before signing up.