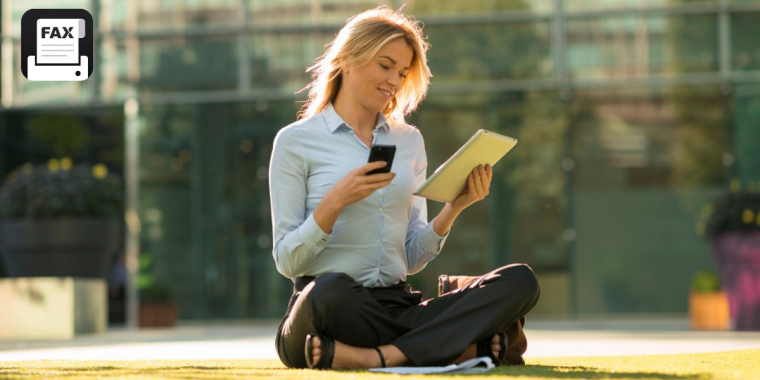 FaxZero is a freemium online fax service that makes it easy to send faxes in the US and Canada without an actual fax machine. The platform also supports international faxing for a fee. Overall, it's a simple online fax service for the occasional Internet fax. But for high-volume faxing and business users, FaxZero falls short of other services in this category.
What is FaxZero?
FaxZero is an online fax service that allows users to send digital faxes. It is a browser-based tool that does not allow users to receive faxes. Customers can choose between two levels of service: a free fax plan, which includes the FaxZero branding on the fax cover for up to five faxes per day, or an almost free fax plan that requires users to pay to remove the FaxZero branding or send more than five faxes per day fax.
Anyone can send internet fax with FaxZero in seconds. Just fill in your name, email address and phone number, and recipient's name and fax number – that's it. You can quickly attach files with a single click and easily customize the cover's text. There is zero learning curve or technical experience required to use this service.
How does FaxZero Work?
The browser-based interface used by FaxZero is a web page, which adds to the simplicity of this online fax service. All your options, from the sender and recipient information to cover letter customization, are displayed upfront. Even pricing information is on that page, so you know exactly what the limits are if you want to send a free fax. When you send a fax, you can be confident it has been received based on the confirmation email you received from FaxZero. If the fax fails, for example, because you sent it to the wrong number, you will receive an email notifying you of the failure. If your fax fails for any reason, FaxZero will notify you by email. It's also worth noting that paid faxing takes precedence over free faxing on FaxZero's line. When you pay for fax, your request automatically moves to the top of the queue. Still, they tried sending free fax, and the service started dialing within 30 seconds.
How Much Does FaxZero Cost?
FaxZero's pricing is pretty straightforward. There are two main options to consider – Free Fax or Premium Fax. As the name suggests, there is no fee for the free fax service. You can use it to send up to three pages and a cover letter, and you're limited to five free faxes per day. The premium service, also known as "Almost Free Faxes," costs just $2.09 per fax. Free fax is only available in the US and Canada. Prices for international faxing via FaxZero vary based on the cost of calling that particular country. FaxZero charges $3.63 for up to 15 pages in most countries.
To lift some strict restrictions on FaxZero's free service, you can send advanced faxing for a small fee. For just $2.09 per fax, you'll get the following benefits:
No FaxZero branding on the cover
Up to 25 pages per fax
Priority over free fax
optional cover letter
Paying for Premium Fax is easy. FaxZero accepts PayPal, Venmo, debit and credit cards. If you don't fax regularly, the $2.09 fax is a good deal. High-volume users can often get better deals with subscription services.
Is FaxZero Safe and Legit?
FaxZero has some basic security measures, although it's not an ideal service for sending files securely. The company uses HTTPS to encrypt your file uploads and SSL or TLS when sending outbound files from its servers. However, FaxZero retains sender and recipient data, including name, email, and phone number, indefinitely. Although the company promises not to share that information with any third parties, the fact that they keep your data isn't great.
Is FaxZero HIPAA Compliant?
So a pay-as-you-go service, like FaxZero, may be a better option. But it won't be "HIPPA" compliant. Only a few HIPAA-compliant online fax services have a pay-as-you-go option. HIPAA-compliant online faxing is typically available in premium plans for business and business users.
Best Alternative to FaxZero: Dingtone Fax
Dingtone Fax is the best alternative to FaxZero because it offers a competitive price, great features, and top-notch security.
Send and receive faxes easily anytime, anywhere
Fax images and documents directly from any source
Local or international dedicated fax number
Allows you to edit and preview fax documents
Provides fax cover sheet templates for different purposes
Allows you to sign documents
End-to-end encryption protects your privacy
Track fax status
As a proprietary telecom application, Dingtone runs on a freeware model, providing instant messaging on mobile devices with iOS or Android operating systems. Dingtone was launched in 2012 by Dingtone Company. As of 2019, Dingtone serves more than 100 million users worldwide. Dingtone was founded with the goal of providing flexible and affordable telephony services over data or WiFi to ease financial burdens, ensure privacy and foster stronger relationships.